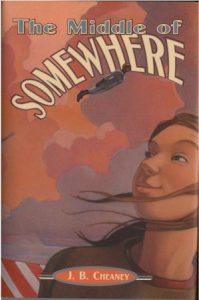 If you're new to our Summer Reading Challenge, welcome! If you started our Around the World adventure last week with us, congratulations and let's continue our journey. This week we're taking a road trip across Middle America.
The Middle of Somewhere by J. B. Cheaney. Knopf, 2007. 224 pages. Worldview Rating: 4.5; Literary Rating: 4.
"It was a dark and stormy night." "It was the best of times, it was the worst of times." Some books begin with such memorable sentences! How about this one from The Middle of Somewhere: "None of this that I'm about to tell you would have happened if my mother hadn't found that squirrel in the toilet." After a smashing first sentence like that one, you simply MUST keep reading.
In the Middle of Somewhere is a terrifically fun book by a terrific person (whom I'm privileged to know!). [Caveat: I read and liked this book BEFORE I met our blogging parter, Janie Cheaney, so consider me relatively unbiased. ] Middle grade novels usually follow a middle grades-aged young person (think 4th-8th grade, here) on a middle school level coming-of-age journey in which the parents are removed, but not absent. At the end, the journey often comes full circle and the young person is reunited with the parent(s). If that were the end of the story, then The Middle of Somewhere might not be much different than your average middle grades story.
Thankfully, it's NOT your average middle grades story. Twelve-year-old Veronica (Ronnie, for short) is a determined, organized young lady who has her life planned out (completed Plan A and Plan-B-in-progress) with specific goals inspired by the motivational writer she's been reading and digesting (one Mr. Kent Clark… and no, he's definitely NOT Superman). She lives with her hard-working mom and her ADHD younger brother, Gerald ("Gee" for short).
The story opens with an abrupt change in Veronica's planned-out-summer: her mother has a disastrous fall after seeing the aforementioned squirrel, lands in the hospital for emergency knee surgery, and Veronica's grandfather providentially passes through town. What ensues is a crazy road trip across Kansas as Veronica and Gee join their wind prospecting grandfather in his RV. They camp at various RV parks, try to see key Kansas sites (yes, there are touristy things there!), and come full circle at the end of the story.
The Middle of Somewhere takes a good honest look at ADHD but from the perspective of an older sister. There is an underlying theme of getting along with family members, learning to understand them, and learning how to love them despite–or, because of–their quirks.
The characterization is top notch (in fact, two of my cousins could totally be Veronica and her younger brother). The setting is just right: I've driven through Kansas before and camped in campgrounds and those descriptions were dead on. Veronica tells the story, and her voice is pitch perfect. And I loved Veronica's little quotations at the top of each chapter–how they morph from inspirational sayings from her favorite "take charge of your life book" to her own wry observations.
All in all, this is a fun summer read, particularly if you, like Veronica, find yourself on a crazy road trip with quirky family members. There's even a map so you can follow along with Veronica's travels. And that strange flying man pictured on the front cover–yeah, he's central to the story, too. Take note!
Calling All Writers!
In fact, speaking of road trips, stay tuned because Janie will be introducing our Summer Reading Challenge writing contest tomorrow! You'll need all those funny road trip stories in hand. [For more tips on being funny, check out our podcast interview with Christian comedian John Branyan.] Janie will also be sharing how she got the original idea for The Middle of Somewhere as well as one of her favorite writing tips.
Let's Discuss
If you're listening to The Middle of Somewhere or reading it with your family, you might consider discussing some of the following:
how do we learn to love our family members?
what's special/unique/memorable about the individuals in OUR family?
what is your best memory of one of your grandparents?
do you think you are more like organized Veronica, her scatterbrained mom, here ADHD brother Gee, or her new-idea-every-day grandfather? Or none of the above? Who would be hardest for you to be stuck in an RV with?
what are some ways you can make your next road trip with your family memorable in a good way? to show love to your family members while en route somewhere?
You can read more about Janie in our Redeemedreader About page, as well as her author website, www.jbcheaney.com.  And in case you're wondering, Janie does have other books you can get on Amazon or at your local bookstore or library as well.  Here's a link to her Amazon page if you'd like to do a little further reading!
Now that we've given you some questions, do you have any questions for Janie?  I'm sure she'd be glad to field them!
        
Support our writers and help keep Redeemed Reader ad-free.