Our Around the World reading challenge book this week is The Middle of Somewhere, and it's written by . . . um . . . me. 
If I were not me, I might be objecting right now that assigning one's own book for a readers' challenge is incredibly self-seeking (and actually, a small corner of me is still doing that).  BUT, it fits with our travel-ish theme, it's a good summertime read, it's fun, and it's a prime springboard to teaching some tried-and-true principles of good writing.  Which I will do this week in connection with our writing contest—don't miss the details below.
* * * * * * * * * * *
When I teach writing classes I try to boil the basics down to three key principles.  Whatever you write, whether school reports, science fair papers, short stories, novels, or poems—any form of written communication will be improved by using these three "keys."  I'll discuss Keys #2 and #3 on Thursday and Friday, but Key #1 is
EXPERIENCE
Don't ever say you don't have anything to write about.  True, I used to think the same—in fact, when I was a kid I did not want to be a writer because I "didn't have anything to write about."  And I wasn't very good at just making stuff up—hence, no writing career for me.  Obviously something changed, and the first big change was recognizing that I had years and years of story material, and it was all usable.  And the same is true for you: that chlorine-and-coconut-oil smell of the neighborhood pool, the lead weight in your stomach while waiting to see the dentist, the gush of happiness at winning an unexpected award–everything you've ever heard or smelled or felt can find its way into a story, even if it's a story about aliens in an alternate universe. 
From the runaway squirrel on the first page to flying into the fireworks on the last page, The Middle of Somewhere is built on personal experience—if not mine, then someone else's.  Yes, that counts, too: what you hear about from others is just as valuable as what you do yourself. 
Of course I made up a lot of it.  In fact, the basic storyline is a combination of two ideas that occurred to me randomly, each seeming like  good material for a novel.  The first story idea was about two brothers, one "normal" and the other not.  I wasn't sure what the problem with the other brother would be—maybe Down Syndrome or Tourette's Syndrome or something that would be equally embarrassing to a sibling.  The other story idea was about a girl and her dad taking a road trip, with a twist—I imagined that the girl's parents were separated or divorced and she barely knew her dad until he showed up one day and proposed that they take a trip together.  It would be so spur-of-the-moment they might not even tell her mom where they were going.
After marinating in my mind for a while, somehow these two ideas came together.  The boy with the problem sibling became a girl, and her embarrassing brother has ADHD.  Instead of Dad showing up with a road-trip suggestion, it's her grandfather, and the trip is not exactly his idea.  As for their destination . . . .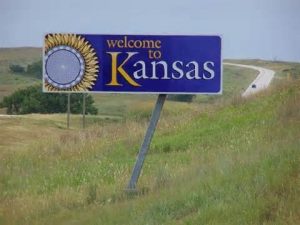 Well, where would you like to go on a road trip?  When I visit schools, I ask the kids what their dream destination would be.  Some suggestions always pop up: California, Disneyland, Washington D. C.; sometimes I hear Colorado or Montana or Texas or Canada.  Once someone suggested Nebraska (must have had relatives there).  But nobody, nobody, has ever mentioned Kansas.  Kansas has this reputation, you see: in polls of the Most Boring State, it's always at the top.  But (here's my experience again) some of my happiest years were spent in Kansas, and even though you can drive a long time without seeing much variation in geography, it's a fascinating state once you get off the main highways. 
And life is like that: remember what I said about experience?  In The Middle of Somewhere, Ronnie can't wait to grow up and start her life, but she doesn't realize her life has already started.  She just needs to learn to put the schedules and plans aside once in awhile, take some by-roads and start noticing things.  That's what she learns on a road trip through boring ol' Kansas, of all places, which has its unexpected thrills and delights. 
This week, we'll go along on the trip and I'll share some of my personal experiences that went into the story.  And, if you have any questions about the writing process, or how I got the idea for this part or that part—or anything else—email them to me at jbc@redeemedreader.com and I'll answer them in Friday's post.
* * * * * * * * * * *
And now for the contests!
RETELL US A STORY
For our younger readers up through age 6, the contest we're running over the summer is pretty simple: retell us a story!  Whether a folktale like Jack and the Beanstalk or something that happened on your summer trip to the beach, have your kids tell us the story or event in their own words.  You can make a sound recording or write it down for them…maybe in your Summer Reading Challenge notebook?  There is no word limit or requirement, just have fun, spin a yarn, and submit to emily@redeemedreader.com  by July 20th. And for inspiration about how to help your kids make the story funny, try listening to our interview with John Branyan last week.
IT"S YOUR LIFE
For readers 7-14, here's the challenge: write a short story based on an experience you had while on summer vacation–at the beach, in the mountains, during a road trip, on a visit to Grandma's, whatever.  "Based on" means you don't have to write exactly what happened to you.  In fact, you shouldn't.  You can have that snake you were afraid of actually show up, or aliens abduct your grandpa, but the story must contain elements and details that really happened to you.  You want rules?  Here are some rules:
The story must be based on personal experience, such as real places and people, though the storyline doesn't have to follow all that actually happened.


Length: 3-10 pages, double-spaced.

Send as an email attachment to jbc@redeemedreader.com, or via snail mail to Janie B. Cheaney, P. O. Box 634, Bolivar, MO 65613.

Deadline: July 20.

 

Winners will be announced the following week.
If you can't wait to get started, do some brainstorming: write down some of your most memorable vacations and specific memories from each.  Then, if you're not good at making stuff up (like me), just think about those memories and how they might fit together to make a good story.  Don't forget to come back on Thursday and Friday, when I'll share the other two essential keys of great writing.
And oh yes, PRIZES: Grand Prize winners in each contest will receive a $25 gift card from Amazon to shop for their favorite books (or favorite anything)!  First- and second-prize winners will receive their choice from a grab bag of giveaway books!
If you're new to our Sixty-day Reader's Challenge, get caught up here.  And it's not just for kids!  Sharpen your own grownup literary skills with our adult/teen read-along in the erudite company of Gina Dalfonzo, of Breakpoint.org's Youth Reads .
More than 75 books for children and teens, all about islands, oceans, and more. Bonus: get a free hand-drawn reading tracker!
Reading Ahead for You
Reviews and Resources Weekly in Your Inbox