Summer's Just Around the Corner!
My family's summer schedule is quite different from our school year schedule. What with travel, fun in the sun, and other diversions, it's easy to get completely out of our normal routine. I find myself steering away from big "commitments." Part of the charm of these two devotional guides by the well known Susan Hunt is their length: each contains just enough chapters to make a really great summer focus. Additionally, each is centered around a main theme. Why not consider picking one or the other to use as a focus for family devotions this summer with your younger children?
Caleb and Cassie Discover God's Wonderful Design
by Susan Hunt and Richie Hunt (Moody, 2013).  Recommended for ages 5-8.
Susan Hunt and her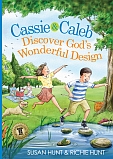 (grown) son Richie tell 20 short stories about siblings Caleb and Cassie and their Christian family. The stories are a touch contrived, such as you might expect from a story-with-a-meaning, but they still resonate with children. (If you're familiar with Susan Hunt's ABC Bible Verses, Caleb and Cassie will sound similar to Missy and Billy.) Each story is followed by Scripture to read, questions on the story and application, and something to pray about. What intrigues me so much about Caleb and Cassie is the central theme: the roles of and designs for men and women. Caleb and Cassie are learning about the similarities of boys and girls (same sin, same Savior) as well as the differences spelled out in Scripture (using the Scriptural metaphors of plants for boys and pillars for girls). Such a needed topic today! It's easy to miss spending such intentional time training our children in a key area like this–an area in which our society is most definitely doing its best to instruct them whether we like it or not. The stories are short enough that you can do more than one a week if you want to finish this study during the summer. I'm not the only one in favor of this little book; check out BeyondBathTime for your chance to win a free copy.
Worldview rating: 5 (out of 5); Literary rating: 3.5. On shelves this month!
Sammy and His Shepherd
by Susan Hunt and Corey Godbey (Reformation Trust Publishing, 2008). Recommended for ages 2-5 (and up).

Sammy and His Shepherd is geared for slightly younger children than Caleb and Cassie, but, like Caleb and Cassie, it focuses on a single theme: using the 23rd Psalm as a clear metaphor for salvation. The story quality in this one is a bit better, and preschoolers will readily grasp the "point" of the stories. Like her other children's devotionals, Hunt provides Scripture to read/memorize, questions to discuss, and something to pray about. This one will encourage wonderful discussion about God's plan of salvation, his shepherding of us, and a further understanding of the many metaphors of sheep/shepherds in Scripture! This one is short enough to cover in one summer using only one chapter/week.
Worldview rating: 5 (out of 5); Literary rating: 4.
Your Turn: What do YOU use at home with your children?
My children are also reading well enough now to be able to read through a Bible reading plan on their own. I've enjoyed the earlier posts about devotional guides here on Redeemed Reader (see below), but I'm curious: what resources have you used to encourage daily Bible reading/devotional habits for the young independent-readers in your families?
One more! (From Janie) My ABC Bible Verses from the Psalms, also by Susan and Richie Hunt (Crossway, 2013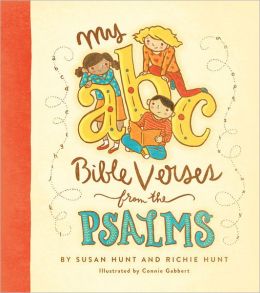 ), follows another set of characters, Missy and Bill and their family and friends.  This devotional book builds on the same format as the authors' My ABC Bible Verses from the Gospel: a main idea corresponding to every letter in the alphabet, with a brief story, Bible passage, discussion questions and a prayer suggestion.   For example, A is for Ascribe to the Lord the Glory Due His Name (Ps. 29:2).   The discussion questions review the story (just to see if they were listening!) and the prayer suggestion (Thank God that Jesus became a man and showed us God's glory) encourages children to apply the Bible truth to their own devotional time.  The authors' primary goal is to "help children discover Jesus in all of scripture," which they accomplish by including a passage from the New Testament with each story.  That's one of the main virtues of this book, in my opinion, and I also like that prayers are not printed out; parents or children put the prayer suggestion in their own words.  The target age is 5-8, but there's wiggle room on both sides.
Cover images above thanks to publishers' websites; ARC of Caleb and Cassie thanks to Moody via netgalley.
More than 75 books for children and teens, all about islands, oceans, and more. Bonus: get a free hand-drawn reading tracker!
Reading Ahead for You
Reviews and Resources Weekly in Your Inbox