*Tops and Bottoms written and illustrated by Janet Stevens. Harcourt Brace, 1995. 32 pages.
Reading Level: Picture Books, ages 4-8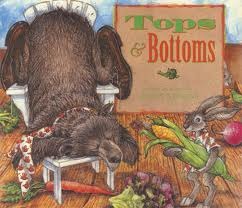 He who has a slack hand becomes poor, but the hand of the diligent makes rich. He who gathers in summer is a wise son; he who sleeps in harvest is a son who causes shame.  (Proverbs 10:4-5)
Bear has plenty of land, but he's lazy and doesn't want to farm it. Rabbit has a hungry family, and he's willing to work. So they drive a bargain: Rabbit will do all the work on Bear's farm while Bear sleeps, and at the end of the season they will evenly split the crops. They agree that Bear will have the tops and Rabbit the bottoms of the harvest. The first year, Rabbit plants root vegetables and gives Bear the less desirable leaves while he takes the valuable produce. How many times can he outsmart Bear before Bear learns a lesson?
See also our list of trickster tales here.
Cautions: none
Overall Rating: 5 (out of 5)
Worldview Rating: 5
Artistic Rating: 5
Categories: Starred Review, Fairy and Folk Tales, Picture Books, Award Winners, Character Values
Cover image from Goodreads.
*indicates starred review

More than 75 books for children and teens, all about islands, oceans, and more. Bonus: get a free hand-drawn reading tracker!
Reading Ahead for You
Reviews and Resources Weekly in Your Inbox