Destiny, Rewritten, by Kathryn Fitzmaurice.  HarperCollins, 2013, 335 pages.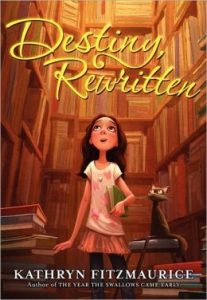 Reading Level: Middle Grades, ages 10-12
Recommended for: ages 10-12 (especially girls)
Bottom Line: Destiny, Rewritten offers middle-grade readers some intriguing questions about free will and predestination, with literary references thrown in.
Emily Elizabeth Davis knows the destiny her mother has in mind for her—to be a great poet, like her namesake whose last name is Dickinson.  But Emily does not know her father's name: This was one of the downsides of having a free spirit for a mother.  Emily's mom, a literature professor at Berkeley, is hardly free, but so bound by her view of destiny she won't force open a stuck garden gate if a shortcut "wasn't meant to be."  That's why she didn't track down Emily's father when fate seemed to tear them apart.  Nor has she revealed his identity, because the identity is supposed to somehow reveal itself.  Prof. Davis is only one of the less-then-believable elements of this story but, like the narrator and most of the other characters, she's so likeable you might want to stick with Emily while she ponders how far destiny can be poked.
Destiny appears to deal a cruel trick when a volume of Dickinson poems, treasured by Emily and her mom for different reasons, accidentally gets carried out with a box of thrift-store discards.  Was it meant to be, or is it time for some instrumental action?  The idea of going out and looking for the book by myself came to me, like things do when you're least expecting them to, like a ladybug or a valentine.  Thus Emily is launched on a quest, with her best friend Wavey and her younger cousin Mortie, in which threads of fate will cross and break and re-tie to a satisfying conclusion.  The story meanders, like life, and may try the patience of a younger reader as Emily encounter tree-sitters, protesters (this is Berkeley, remember), poetry lessons, CCD class (wherein Father Patrick explains free will and God's will), Laura Ingalls Wilder, and letters to Danielle Steel.  Along the way she comes to understand that there [is] nothing but mystery around every corner in this world.
True; and there's a lot to like here, as long as the reader knows from Whom all blessings and mysteries flow.  Judging by her acknowledgements, the author does, but her story is more like a fairy tale in which everybody is well-meaning and kind and disobedience to God's will only means one "may not receive the many blessings God has planned for him."  God is indeed mysterious, but not for mystery's sake; that's just the nature of His triune reality pour into our human existence.  Still, as long as the reader understands that Destiny, Rewritten is more magical than realistic, there's much to enjoy, such as Emily's discursive dialogues with Wavey and a conversation in haiku with her sixth-grade heartthrob Connor.
Cautions: Character issues (Emily's mother refusing to contact her father; Emily and her friend skipping school to go on a quest)
Overall rating: 4 (out of 5)
Worldview/moral value: 4
Literary value: 4.5
Categories: Middle Grades, Fiction, Life Issues
More than 75 books for children and teens, all about islands, oceans, and more. Bonus: get a free hand-drawn reading tracker!
Reading Ahead for You
Reviews and Resources Weekly in Your Inbox