My mother-in-law once observed how different life would be if we didn't have to eat.  She might have been having a bad day, because in the context she meant different for the better: no shopping, penny-pinching, scrounging; no cooking (cooking was not her forte), no fighting with the kids over eating their liver—most of all, no cleaning up!  She'd raised seven children—six of them boys–on her husband's modest income for roughly 20 years, so I understand the sentiment.
But still . . . we tend to get so focused on the hassles of a circumstance we forget the blessings.  Yes, life would be simpler if we didn't have to eat, but it would also be flatter and less textured.  Food not only sustains us; it delights, comforts, and satisfies us.  It also obligates us to each other, not only within a family but within a community, spinning a web of mutual benefit and blessing.  More than anything else, it ties us to earth's beating heart and gives us continual reason for thanks.  Jesus always blessed the food he served, whether countless loaves and fishes on a hillside or bread and wine at a Passover meal.  He still does, not only at the communion meal but at any gathering of people around a table set according to rules of etiquette.  The very act of gathering around a table suggests something ceremonial and sacred about a function that, on biological terms alone, should be solitary and utilitarian.
All that to say, our interest in food isn't just a matter of stomach and taste buds.  It's a matter of the soul, which means it finds its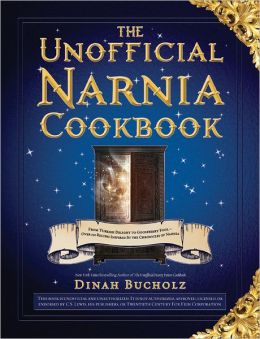 way into literature not infrequently:
 The Unofficial Narnia Cookbook: from Turkish Delight to Gooseberry Fool, by Dinah Bucholz.  Sourcebooks, 2012.  Age/interest level: 10-up.
In case you're wondering, there is an official Narnia Cookbook, or as official as any such volume is likely to get, with the name of Lewis's stepson on the cover.  But that book has the disadvantage of being out of print (meaning used copies start at $54).  This version is much cheaper, and a lot of fun, though not for amateurs.  The author brings nothing to the table but a love of cooking and reading (she's already been to the kitchen with Harry Potter), plus a certain amount of experimental chutzpah.  Lewis had no particular skill in the kitchen (that I know of) and perhaps only the faintest idea of how the delights he mentions were actually prepared.  He was taken to task for a certain carelessness of detail by no less an authority than Tolkien (as noted in this excerpt from a new book by Rowan Williams).
So the author was pretty much on her own when it came to the nuts and bolts.  Some recipes she uses are traditional, others are made up or devised from best guesses about Telmarine, Calormene, and Narnian culture.  But she's not merely playing around:
Food isn't just something mentioned as an aside to remind us the characters are real people.  Food is almost its own character and it brings along [its own] emotions.  When King Tirian is tied up for the night, starving, the Mice, Rabbits, and Moles bring him food.  We're moved that he still has friends willing to risk their lives to bring him sustenance.
Would you like to put together a Calormene picnic, such as Shasta tucked in his saddlebag when making his escape with Bree?  Here's the menu: dried figs, green cheese, grape juice and Meat Pasty.  Or how about Polly's Dinner with the Nice Parts Left Out: Toad in the Hole with peas & carrots.  If you want to cheat and add the nice parts, make some Sticky Toffee Pudding with strawberries and cream.  Speaking of Polly, remember her attic hideout decorated with empty ginger beer bottles?  Let's make some ginger beer!  (This is a concoction I do intend to try.)
Some of these recipes are perhaps better read than made, such as Puddleglum's Eel Stew and Roasted Stuffed Boar's Head.  Real eels, real boar's head—I told you it's not for amateurs, and perhaps not even for Americans.  But if you don't feel like whipping up a seven-course Cair Paravel Night Feast, you could probably manage the Plumptree's Vitaminized Nerve Food (such as Eustace demanded while drying out on the deck of the Dawn Treader) or the Flat Flabby Cakes that didn't appeal much to Eustace and Jill when they were in the Underworld.  And of course, you'll have to try the recipe for Turkish Delight.  The lawful kind, not the enchanted kind.  Bon appetit!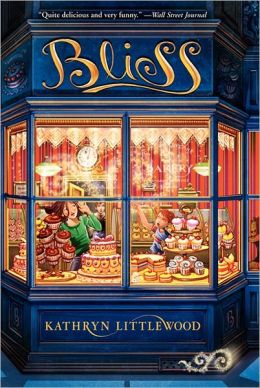 Bliss, by Kathryn Littlewood.  HarperCollins, 2012, 374 pages.  Age/interest level: 10-14.
We know from chapter one that the Bliss family is a little different.  That is, Purdy, the mom, has a cellar full of unusual ingredients (like lighting in a jar and tincture of Venus) gathered on the sly to use in the extra-special recipes out of the Bliss Cookery Booke.  The Booke has been in her family for centuries, but the kids (Rosemary, Thyme (Ty), Sage, and Parsley (Leigh)) don't know about it–yet.  They do know their mom can stir magic into certain baked products if there's a need.  In spite of her unusual mother, Rosemary (Rose) doesn't feel especially magical; she's the plain Jane of the family who wants nothing more than to be appreciated by busy parents and flashy siblings.  And it would also be nice to catch the eye of dreamy Dustin at the local auto repair.  But her life is about to change in a big way . . .
When her parents answer an urgent request that requires their absence for a few days, the kids receive a surprise visit from a fabulous, charismatic, gorgeous creature who rides up on a motorcycle and claims to be their "Aunt" (actually distant cousin) Lily.  Lily is everything Rose would like to be, but just maybe Lily isn't everything she claims.  Before long the Cookery Booke is discovered, the kids take matters into their own hands, and hijinks ensue in a pleasant if somewhat predictable manner.  It's a twist on the Sorcerer's-Apprentice theme that feels a bit frantic at times and amateur at others (when an author has characters scream when they could just as easily yell or shout, it's a sure sign she's trying too hard.)  I couldn't quite believe the characters or motivations, but it's fun enough, and Rose battles a strong temptation and makes a right choice at the end.
Note: A Dash of Magic, the sequel to Bliss, is getting good reviews and stirs another enchanting ingredient into the mix: Paris!  That's where the entire Bliss family travels to get the old Cookery Booke back from Aunt Lily and win an international bakeoff.
Cake: Love, Chickens and a Taste of Peculiar, by Joyce Magnin.  Zonderkidz, 2013, 221 pages.  Age/interest level: 8-14.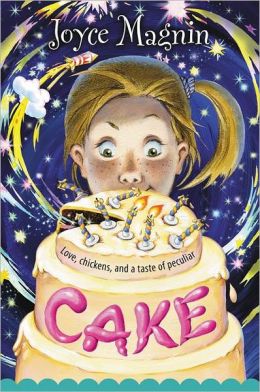 When it's time for Wilma Sue to move to a new foster home, she's not too sorry to say good-bye to the Crums.  But at least she was used to them.  A new foster family is always scary, and this time it's downright weird: Ruth and Naomi Beedlemeyer, a pair of spinster sisters who served as missionaries in Africa, go around barefoot, and bake very odd cakes.  Sure, they seem nice, but do they want a daughter or a drudge?  Wilma Sue has reason to suspect the latter, especially when she's assigned to look after the chickens—meaning clean up their poop and everything.
On the other hand, she's always had a special feeling for birds: what if she had hollow bones like they did, and could fly away from unhappy situations?  The avian theme makes several appearances as Wilma Sue comes slowly down to earth and starts to feel at home with Ruth and Naomi.  But there's a girl who seems to want to be friends but doesn't know how—and those cakes Naomi's always baking seem to have the strangest effect on people . . .
Cake resembles Bliss in some ways, including magical pastry and a baking experiment gone very wrong, as well as good-natured but slightly exaggerated characters engaged in situations stretched to their humorous limits. But there's more of a point and more of a resolution, especially as Wilma Sue learns patience and forgiveness and pineapple upside-down cake (recipe included).
Literary cookbooks are a tasty subgenre all to themselves.  Here's a post from Thanksgivings past on some of them.  And thoughts on the Voyage of the Dawn Treader movie, and more books about characters who love to cook.
Reading Ahead for You
Reviews and Resources Weekly in Your Inbox