In our posts over the last two weeks, Emily and I have suggested that Roe v. Wade has changed America profoundly in the ways we think about sex, gender, and parenting.  But how about love?  That's a word that doesn't often figure in the discussion of Life vs. Choice or Our Bodies, Ourselves.  But the truth is something everybody knows: we were made for relationship, we pine for relationship, and relationship requires setting ourselves aside for someone else.  I believe that Roe v. Wade, the official declaration of a woman's independence from biology, creates a deep conflict with her significant others and within herself.
How this works out in children's literature—or specifically YA literature—isn't especially obvious.  As we saw last week, teen novels since Forever have featured sex, but it's usually presented as monumental without any serious consequence, or else disappointing, but still not serious.  Sometimes a girl gets pregnant, but abortion?  I can't think of a single YA novel about abortion (though it's part of a subplot in The Perks of Being a Wallflower).  I'm sure there are some, but it's not a subject kids want to read about.  No one wants to read about it—they just want to be able to do it: to keep it tucked away as an option, a back-up plan.  It can't be proved, but I believe that the legal "right" to kill one's unborn child creates a malicious undercurrent that affects the most intimate connections of all who accept that right.  Two recent YA books (with weirdly similar covers) suggest that Roe v. Wade still haunts us.
The Unbearable Book Club for Unsinkable Girls, by Julie Schumacher.  Delacorte, 2012, 227 pages.  Age/interest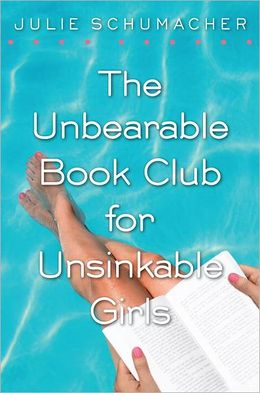 level: 14-up.
For instance, in The Unbearable Book Club, Adrienne Haas, age 16, has a relationship with her single mom that can best be described as adversarial.  "She was 28 when I was born.  'And if I had decided I didn't want a baby, you wouldn't be here.'"  That's about as blunt as it gets.  As the story opens, Adrienne is recovering from an accident with her mom's car, so she can't go on a Boundary Waters expedition with her best friend.  Instead, she's limping into summer with the dubious friendships of blond, imperious CeeCee, over-achieving Jill and shy, mysterious Wallis: the book club cobbled together by their mothers.  For Adrienne, summer becomes a reckless odyssey of self-discovery orchestrated by CeeCee, who constructs her own reality and expects Adrienne to join her there.  The titles selected for the book club (Yellow Wallpaper, The Awakening, Frankenstein, etc.) form signposts along the way, all of them variations on the theme of Who Am I? or Where Do I Fit?  Unlikely bonds are formed among the girls while the mother-ship breaks up: except for Wallis' mom, who doesn't seem to exist, all the ladies are acting out their frustrations with life in various ways.  Adrienne and her own mom drift farther apart–the consequence, at least in part, of the Me Generation's insistence on doing it their way.  That philosophy doesn't work out well for the kids, who are left floundering and reaching for some sense of permanence:
And the final pages of a book should suggest that, even though difficult and ugly and unexpected things happen, they happen within a framework and can be understood.  They might seem random but the reader will be able to find meaning in them.  Believing in books, I thought, was almost like believing in God.
Ironic, isn't it?  Our own scenarios, such as when and if to have children, don't satisfy, but we're still looking for the overarching story that will make our lives make sense.
Small Damages, by Beth Kephart.  Philomel, 2012, 304 pages.  Age/interest level: 14-up.
Kenzie is 18 and pregnant when the story begins.  At the insistence of her recently widowed mother, she's been packed away, with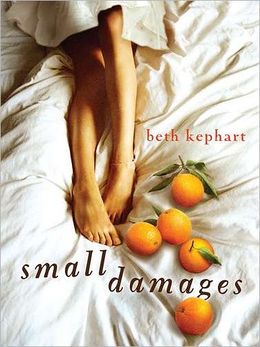 the sketchiest explanation to her friends, and hustled aboard a plane to Seville.  Since she refuses to "take care of" (i.e., abort) her baby, Mom knows someone in Spain who will adopt it.  Why Spain?  Why not, since the author has made several trips there and has been folded into the provincial culture.  It shows, perhaps too much and sometimes at the expense of the story, which moves very slowly with frequent pauses for characters to gaze dreamily or dream gazily into the shimmering horizon "where vanishing seems to be the point that history makes."
The people Kenzie stays with have a history, especially Estella the cook—curt and almost hostile at first, but she opens up in the kitchen while teaching Kenzie how to make the perfect paella.  Spain intersects with Pennsylvania and the Jersey shore as Kenzie recalls her senior year and the pain of friends breaking up.  Not to mention her own guy thing that got out of hand.  "We should have been more careful," she recalls more than once—but they weren't.  Now each month takes her deeper into the awareness that her life is permanently altered.  "Everything you do now is something you do to or for another," the doctor tells her.  You are living for two.  Be careful."
This story has many flaws, one profanity, one vulgarity, a (godless) human-centered worldview; and it considers itself pro-choice.  "'You made your choices,' [Mother] said, and I said, 'No.'  Because the only thing I chose was you."  (Meaning the baby.)  It's also, at times, too literary for its own good, as for example nuns "blackbirding" down a street or horses' hooves "metronoming" soft ground.  But it's strong on this, that the "small damages" which complicate our lives are often the very things that give life meaning.  And we can't quite get past the conundrum in the womb: the incontrovertible Other.  "Everything you do now is something you do to or for another."  Soul and body say, choose for.  Choose life.
See our previous post on this subject, with links.  And don't miss Emily's interview with Rosalie De Rosset, which touches on finding sexual wisdom through literature.
More than 75 books for children and teens, all about islands, oceans, and more. Bonus: get a free hand-drawn reading tracker!
Reading Ahead for You
Reviews and Resources Weekly in Your Inbox