The Theodore Seuss Geisel Medal (featuring a bas-relief of Dr. Seuss himself) is given by the Americ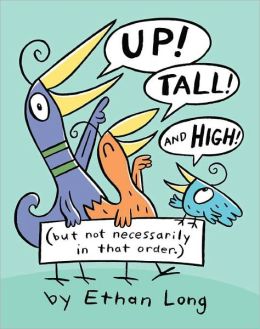 an Library Association every year for outstanding books for beginning readers.  They're usually clever and engaging and loads more fun than Dick and Jane.  Here are the picks for this year:
Up! Tall! and High! by Ethan Long.  Putnam, 2012, 30 pages.  (Gold medal)
The first thing you notice is the physicality: extra-heavy pages almost the thickness of a board book, with intriguing flaps.  Three "chapters" explore the title concepts and the vagaries of comparison.  For example: for "tall", an orange bird measures himself against a ruler: I am tall.  But can he still say that when standing next to the big blue bird?  And what about the green bird on stilts (lift flap)—is that real tallness?  I may not be tall . . . admits the green bird, just before displaying a gorgeous tail: But I am not small.  An easy vocabulary and interesting concepts make this a winner for beginners.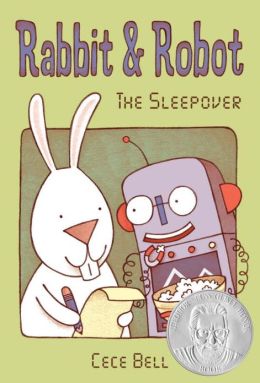 Rabbit and Robot: the Sleepover, by Cece Bell.  Candlewick, 2012, 50 pages.  (Geisel Honor book)
The four chapters of this early reader are the four items on Rabbit's sleepover list: 1. Make pizza.  2. Watch TV.  3. Play Go Fish.  4. Go to bed.  But the list immediately goes off the rails with Robot's arrival and his preference for nuts and bolts pizza.  Nuts and bolts are supplied by taking the hardware out of rabbit's furniture.  We soon discern that Rabbit is an emotional character while Robot is the analytical one—a good thing when Rabbit starts throwing stuff.  But they're good enough friends to put up with each other's quirks (and weak batteries) and laugh at each other's foibles—and best of all, they know what makes for a good day.  The author's distinctive illustrations add to the fun.  Don't point out the picture of Rabbit with the TV remote in his ear; let your beginning reader do that.  And encourage them to read Robot's lines in a Robot voice.
Let's Go for a Drive! (An Elephant and Piggie Book), by Mo Willems.  Hyperion, 2012, 64 pages.  (Geisel Honor book)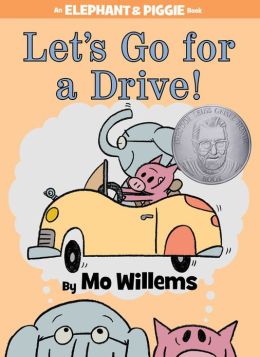 Mo Willems should design his book covers to accommodate that nice round Geisel medal, because this is the third time he's won it.  Elephant and Piggie are up to their typically expansive plans, as indicated by the title of the book and their refrain: "Drive! Drive! Drivey-drive-drive!"  But wait a minute!  Elephant keeps thinking of things they must have for their trip: a map, an umbrella, sunglasses.  Piggie can supply everything . . . except the last thing, which proves to be rather essential.  Some of Willem's books are punchier, but Elephant and Piggie fans won't be disappointed.

Pete the Cat and His Four Groovy Buttons, by James Dean and Eric Litwin.  Harper, 2012, 32 pages. (Geisel honor book)
This is Pete the Cat's second excursion into print, and the second time with a downloadable free song available at the Harper Childrens website.  This cat always has a song in his heart, and today it's about buttons: four of them, all groovy, embellishing the front of his favorite shirt.  Once the first button pops off, leaving three, a young reader might be able to guess what will happen next.  But does Pete cry?  "Goodness, no!  Buttons come and buttons go."  Nothing can depress his high spirits, especially after he finds an unsuspected button that won't pop off.  Blocky shapes and bright colors, plus an upbeat message and a lesson in elementary subtraction—what's not to like?
And here's a bonus book: not an early reader or award winner, but a sweet treat for Valentine's Day:
Ten Things I Love about You, by Daniel Kirk.  Penguin, 2014, 32 pages.  Age/interest level: 3-6.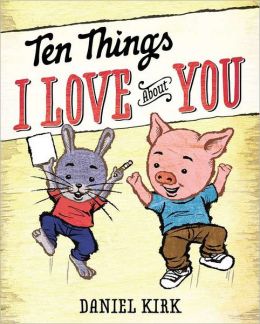 Pig is busy at home when Rabbit rings his doorbell: "I'm making a list!"  But Rabbit needs a little help, since he can't get past #1: Pig is very pink.  Pig would like his friend to make himself scarce, but all his gentle and not-so-gentle hints just give Rabbit more ideas:
But this is your list, Rabbit.  Only you know what to say.

Oh, I have another one!  Number 3—I love Pig because he believes in me.
What began as a rather syrupy concept becomes a poignant reminder: we can't love in the abstract.  If we really think about a person, as Rabbit is encouraged to do, we can come up with all kinds of concrete attractions about them.  By then end of this book, you may be ready to start your own list!
Don't miss Emily's Valentine Picks for little ones.  And here are the Geisel award winners from last year.
More than 75 books for children and teens, all about islands, oceans, and more. Bonus: get a free hand-drawn reading tracker!
Reading Ahead for You
Reviews and Resources Weekly in Your Inbox