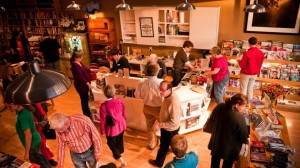 If you missed it, Part One of this series detailed my trip to a fantastic Nashville bookstore, Logos Bookstore.  Today, I follow up that Christian bookstore with a secular bookstore, Parnassus Books.  Owned by Ann Patchett, an award-winning author herself, Parnassus opened in 2011 to great fanfare.  As an independent bookstore bucking the trend toward chains and mega-stores, it gained coverage in Publisher's Weekly and even the New York Times.
If I had less shopping to do myself, I'd tell you more about the atmosphere and wonderful staff at Parnassus.  But it's coming down to the wire for me, too!  So, here are a few of the best books I found on my visit, and I encourage all of you to stop by this classic bookstore whenever you can!
The Recommendations
Our Very Own Christmas Story by Annette Lange.  This was my very favorite new find of the Christmas season.  My kids read so fast now that I don't buy short picture books like this anymore, but my oldest skimmed it with me in the store and we both loved it.  It represents to my mind the best that postmodern authors and Christians can share about Christmas, for it details the imaginary journey of a brother and sister to Bethlehem.  They have learned the Christmas story by heart, and through a typical European or American snowy landscape, they travel as Mary and Joseph to have the Christ child.  While the story might have been told in a mocking or silly way, both the children maintain a reverence or seriousness–despite setbacks and slips of the tongue–through the entire book.  And what you have is a brief glimpse of two children who love the real Christmas story, and who essentially create their own nativity play, with all the innocence and simplicity of a Charlie Brown Christmas.  Absolutely perfect.
Maurice Sendak's Nutcracker.  I wasn't able to read this, so I can't tell you whether the text is any good.  The word "erotic" appears in the introduction by Sendak, which seemed out of place in a kid's book.  But it wasn't used in a gross way, and the overall impression the book gave me was very positive.  If you like Sendak, chance's are you'll like this presentation.  And as far as getting your money's worth, it's a nice, thick book which will take your kids a long time to read.  Worth checking out.
The Story of Christmas by Pamela Dalton.  Janie reviewed this here last year.  Still a good choice, and one of the best books in the Christmas section at Parnassus.
A Christmas Carol with Illustrations by Quentin Blake.  I was looking for a keepsake for my girls to read each year, and this one seemed to fit the bill.  I enjoy Quentin Blake's art, and I liked the idea of getting a copy of this classic that we could read together.  Haven't read it yet, but since both the story and the artist are known quantities, I'm hoping for something special.
I hope this helps a few of you out in your last minute Christmas shopping!  I'm actually looking for a last minute book on Lewis and Clark for my oldest.  Any recommendations for me?! 
And if you need more recommendations, see our Christmas eStore (which requires Flash capabilities) or Janie's two-part round-up of picture books.
More than 75 books for children and teens, all about islands, oceans, and more. Bonus: get a free hand-drawn reading tracker!
Reading Ahead for You
Reviews and Resources Weekly in Your Inbox