We're closing out Halloween week with something a little different.  About two years ago, I began hearing of a new movie called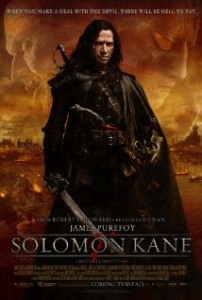 Solomon Kane, based on a late-1930s pulp fiction series by Robert E. Howard, creator of Conan the Barbarian.  Conan made a big splash on silver screen (at least the first time around), which encouraged plans to cinematize Solomon.  What interested me was the Reformation angle: Solomon Kane is an 16th-century Puritan.  Robert Howard had no religious leanings that I can discover, so a sectarian hero seemed an odd choice (and besides, Puritans are usually villains).  Granted, Mr. Howard doesn't show much familiarity with doctrinal matters in his fiction, but I thought there might be something of interest to our readers, especially if the movie got a wide release at the end of September.   So I handed an assignment (and the book) to one of our new interns, Nathan Spear.
Solomon Kane doesn't seem to have many friends in the industry because, even after a successful run in Europe, the powers that be gave it only a limited release in the U.S.A., probably followed by a quick trip to DVD.  Oh well.  If you're browsing shelves at Blockbuster or skimming screens at Netflix, you might come across this odd character and wonder if the movie is any good.  So we're going ahead with the post.  You'll hear more from Nathan during Hobbit month (that's this month!) but for now–I'll allow Nathan to introduce himself.
My name is Nathan Spear, and I'm an intern at this most auspicious blog. I was educated at home in Arizona, and that education included many books, various philosophies, much history, and several languages (Latin being primary, but I have since branched out to German and Klingon). As a result of this education, I am a writer.
In preparation for the release of the movie Solomon Kane, Janie asked me, but a humble and lowly intern, to read the original book and compare it with reviews and synopses of, and the trailer for, the movie in the hope of isolating and considering the religious themes therein. And so the story goes. . .
The Book:
I received the book from Janie (I love free books) and promptly set to. A fascinating read, to be sure: fencing, fighting, torture,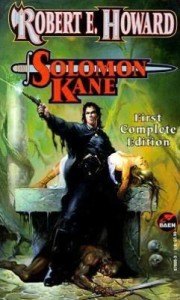 revenge, giants, monsters, chases, escapes, true love, miracles! The book is actually a collection of short stories written by Robert E. Howard (of Conan the Barbarian fame) for the Weird Tales magazine. The title character is a Puritan adventurer in the early 1600s, wandering like Aragorn throughout the known (and unknown) world, righting wrongs or avenging evils; in Robert's
own words, "a fanatic."  In my own, the consummate Byronic hero: dark hair and dark past, renewed with a hope and a passionate, uncontrollable burning to destroy evil. In one story, he spends a year tracking down a robber who burned a village in England. In yet other stories, he rids regions of unexplored Africa from zombies and harpies. He encounters cursed skeletons, pirates, and even Death.
It's not really happy, but in each story, right, good, and justice (embodied in Solomon Kane) win. And that is, I suppose, the theme of the book: defend the weak against the tyrant, stand up for justice. If you enjoy this type of genre, or have kids (especially boys) who enjoy it, I would recommend it.
The Movie:
But it is the movie that I'm to try to tell you about, a task hardly easier for seeing the trailer and reading the synopsis. (You can view the trailer here: http://movies.yahoo.com/movie/solomon-kane/ Wasn't that lovely?) Now, if you saw the trailer, then you noticed certain, ah, religious themes, like devils, and crosses, and damnation, and salvation. The film plot forms a prequel to the written stories–how Solomon became the wanderer, the protecting Puritan. According to the trailer and the synopsis on that bastion of truth and knowledge, Wikipedia, Solomon knows he is damned; violence has been the answer all his life. "Can he be saved?" is the question.
Upon entering a monastery (in post-Henry VIII England), giving up violence (violence is not the answer), and subsequently taking it up again to defend several travelers from minions of the primary villains (ok, so maybe it is), he learns that he can, in fact, be saved: just go rescue Meredith, a member of the party of travelers who'd been carried off. He gives up a scene or so later upon learning she was killed. While drowning his sorrowful soul in a local pub's cheapest brew, the pub and its village is attacked, again by the minions of the villains, and the population is removed for slaves or soldiers, or the unfit are crucified. Solomon is among the latter, and up on the cross, he sees Meredith not dead! Salvation is still possible! He can still rescue the girl! With an almighty effort, he pulls himself from the cross, and goes off to fight the bad guys and impress the agents in Hollywood and the BBC.
So much for the plot surrounding the crosses. Is this salvation? Is this crucifixion scene a mirror of Golgotha, from which it draws much imagery? Is the crucifixion important to anybody's salvation, or even character development? I can't say, not having watched the movie. To what degree does the trailer's ultimate soundbite ("There are many paths to redemption, not all of them peaceful") speak of a works-righteousness worldview, who can say? But, if you should watch this movie (I certainly hope
to), keep these ideas in mind. How is the character development/salvation achieved? Grace? Works?  A cunning mixture? The actions of another character? Or perhaps the question isn't salvation. Perhaps the question is violence, and Solomon Kane's answer is "Yes".
Our other intern, Autumn, made her debut here.  For more action-packed adventure stories, see our reviews of Crazy Dangerous, Homelanders, and Around the World in 100 Days.
Support our writers and help keep Redeemed Reader ad-free.