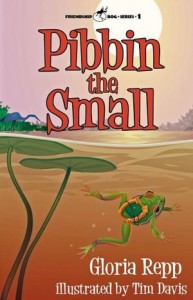 Sometimes, I get great books in the mail from relatively unknown authors.  Sometimes I get more copies of well-known authors' books than I can give away in a timely manner.  And that's largely how I got the rather large stack of books I have here to give away tonight at our Bookshelf Giveaway.
I thought it might be nice to give these authors a little credit, and whet your appetites at the same time.  Here are my the top ten I'll be giving away tonight:
1. Pibbin the Small: A Tale of Friendship Bog
and The Story Shell: A Tale of Friendship Bog
by Gloria Repp.  At 98 pages, these books are at once educational, moral, and entertaining.  Pibben is a small tree frog who lives in friendship bog, and he faces problems such as a having to go on a quest to help a friend get the medicine she needs, or helping another friend find a special "story shell."  These are simple stories without a lot of embellishment, and I would liked to have seen a little better pacing and scenes drawn more distinctly.  But overall, it hooked both my girls who don't care for frogs at all, and I think they really came to love these stories.  Repp who used to publish with Bob Jones is just the sort of storyteller that I would trust unhesitatingly in terms of the moral value of her stories, and her craft is quite sufficient to keep a little one's attention.
2.  Weight of a Flame: The Passion of Olympia Morata and Lady Jane Grey by Simonetta Carr.  I'm not sure how I ended up with these books, since they have so much value.  Weight of a Flame is Carr's first foray into books for older kids, and it drags in a few places.  But the subject-matter-a young martyr during the Reformation–is so amazing than young girls probably won't notice much, and they can be sure than unlike other books on historical figures, this one is painstakingly researched.  As for Lady Jane Grey, I reviewed it here.  A great addition to any Christian library.
3.  Eric Carle's Treasury of Classic Stories for Children.  I occasionally pick books like this up when I find them on sale.  This one happens to be gently used, but near mint condition.  In it, Eric Carle has retold and illustrated classic stories by Aesop, Hans Christian Anderson, and the Brothers Grimm.  These aren't the sanitized Disney version of the tales, either, but the art is so other-worldly (think Brown Bear, Brown Bear) that it won't be too scary.  Instead, it's just fascinating to look at.
4.  What is it Like?  and How God Changes People by Catherine Mackenzie.  What is it Like?  Is the Little Lights biography of Mary Slessor.  It has a traditional kind of Christian biography illustration, but the storytelling is simple and interesting.  My youngest asked to read it over and over again, and now declares she wants to be a missionary.  The second book here, How God Changes People, is creatively illustrated, and it's a great read aloud for parents and kids on stories of conversion from the Bible.  A wonderful spring board for talking about one's own conversion or conversions of family members and passing down the family's spiritual heritage.
5.  Thoughts to Make Your Heart Sing by Sally Lloyd Jones and Jago.  By the team that brought you The Jesus Storybook Bible, I suspect this will be one of the most popular books under the tree this year.
I wish I had more time to describe why I find the rest of our giveaway books worth chatting about.  But alas, time to start preparing for the festivities!  So, hope this gets you guys excited…and I'll see you in just a bit!
Support our writers and help keep Redeemed Reader ad-free.