The Hobbit Read Along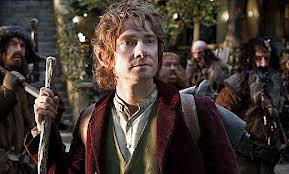 Two weeks from today on Monday, November 5th, our Great Hobbit Read Along Adventure begins!  We'll cover two or three chapters of The Hobbit by J.R.R. Tolkien each week for five weeks, ending the first week of December, just before the release of the movie version by Peter Jackson.  We hope it will be an exciting adventure for individuals, families and youth groups who choose to join us, with insights from a number of Christian authors and cultural commentators to help you get more from your reading.
Don't have time for a read along right now?  That's ok, too.  We think you'll still enjoy the insights from our guests.  And you can always have your own read along later!  So what sort of adventures will we get into?  Here's a sneak peek:
Worldview/Theological Insight: Jim Ware, author of Finding God in the Hobbit (as well as numerous Adventures in Odyssey for kids), will join us with stories from Tolkien's life and thought, as well as insights into the story itself and how Tolkien's Christian worldview informs it.
Guest #1: John Erickson on Reading Aloud.  Author of the Hank the Cowdog series for kids has narrated his own audiobooks for years now, which he says is the most natural medium for his stories.  Over seven million parents and kids agree, making his CDs staples among many homeschoolers and other Christian families today.  (One mom told me recently that while listening to one of his audiobooks in her car, she laughed so hard she had to pull over.  He's THAT good.)  In our first week, he'll share some secrets to reading aloud, including how you can create memorable characters just using your voice, as well as some simple props that can go a long way.
Week #1 Contest: Radio Theater for Kids: Using John's insights about reading aloud, you and your kids are invited to record a page or two reading aloud.  Try out a scary Smaug voice or a goofy troll voice, and we'll let our readers pick the best ones!  And the prize?  (There has to be a prize, of course.)  How bout a copy of one of John Erickson's audiobooks?  And maybe more on top of that!
Hobbit-ize Your Dad: Ever wondered what your dad or brother would look like if they were a hobbit?  Or maybe a troll?  We hope to give away a free caricature to one reader, in which you can choose one of the Hobbit characters and have yourself or a loved one drawn in that style.  And if you don't win, you can still purchase them from our caricature artist to create some unique Christmas gifts.  (For instance, my daughter says she wants to hobbit-ize our cats….)
And that's just the tip of the ice berg!
The Hot Chocolate Adventure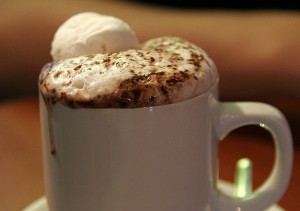 One of the most enjoyable aspects of a family read along, as Douglas Bond will mention later this week in his interview, is sharing a sweet or salty snack together.  Toward that end, I thought it would be fun to share some fantastic recipes for hot chocolate with each other.  (Be sure to scrounge up your family favorite to share with us later!)
It turns out that hot chocolate is a perfect fit for our Hobbit's tale, since it's had quite an amazing adventure itself to make it to our tables.  For instance, did you know that hot chocolate first appeared in the ancient Mayan culture of Central America, and that it was adopted by Spanish conquistadors who introduced it into European culture (despite the fact that they didn't use any sugar at all with the drink, yikes!).  Today, hot chocolate is still a traditional drink in Mexico, though usually without the Mayan flare (i.e. chiles).
I thought that each week we could try some new kid-friendly hot chocolate recipe.  I've drawn the first recipe below from the blog of David Lebovitz, a Parisian chef and writer, and the second from Beatriz, as a Hispanic friend of mine who grew up in Mexico.  Why not stock up on some dark chocolate, sugar and heavy cream/half and half at the store this week to prepare?  (I won't tell if you start your taste-bud adventure this week!)
2 cups whole milk

4 Tbsp cocoa powder

3 oz. sweet chocolate bar

optional: 1/4 tsp chile powder or 1 stick cinnamon

Directions: In a medium saucepan, heat the milk with the cocoa powder and salt, whisking constantly until it comes to a full boil.  Add cinnamon stick or chile powder if desired.  Remove from heat and add the chocolate, whisking gently until it's completely melted.
If you don't have time to make it from scratch, here's a store bought version that will get you out of your comfort zone…just like our hobbit hero.
The Pre-made Version

At your local grocery story, check the Hispanic foods section for Abuelita hot chocolate tablets made by Nestle.  (My friend says she gets them at Publix and they have an old woman on the front.)  It also comes in a powder, but she doesnt like these as much.  To make, mix 1 cups of water, 3 cups of milk, and one tablet in a medium saucepan and bring to a boil until chocolate is melted.  It will be "really chocolatey", so you might want to eat it like she and her brothers and sisters do–with a very plain bread (maybe a scone for those with a sweet tooth?) dipped in the chocolate.  I expect you could also add a little sugar to give it a kick.
The Bookshelf Giveaway Soiree

To wrap up our Library Month and start The Hobbit Read Along, we'd like to give someone a new shelf of kids' books!  We've gathered up more than 20 great kids' books and we'll put them in several winners hands on November 5th, at 7 pm.  Not only can you win books, but you can try out one of our hot chocolate recipes and meet other folks who'll be doing the read along with you.  CLICK HERE to like this Facebook event and find out more!
Would you like to be added to a Hobbit Read Along email list?  Just leave us a note saying so in the comments below.  We'll email you each week with the read along materials, just in case you miss them!  You'll automatically be added to the Bookshelf Giveaway, and you won't have to be present to win!  And if you'd like to get started already, here is Week One!

Support our writers and help keep Redeemed Reader ad-free.
161 Comments