MESSIAH:  The Lamb of God

?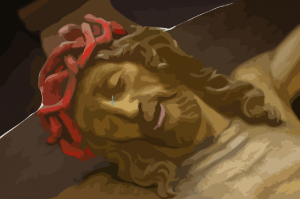 By the end of the week, the worst thing that they could ever imagine had happened.  And they were right: it was the worst thing that ever happened.  But it became the best. And now, with the Holy Spirit's help, we understand Jesus's words, words that both Satan and the disciples couldn't understand at the time: "Now is the judgment of this world; now will the ruler of this world be cast out.  And I, when I am lifted up from the earth, will draw all people to myself."  (John 12:31)
Study Guides:
Make-Your-Own-Story-Bible Resources:
For last week's study, here's Challenge 40.  Or just see the category link with all the previous Bible Challenges.
Thanks also to our visual artist, Carl Dean White, for his lovely and informative art this week!  Be sure to see his other drawings in this series, as well as his website.
Support our writers and help keep Redeemed Reader ad-free.