Keeping the Castle: a Tale of Romance, Riches, and Real Estate, by Patrice Kindl.  Viking, 2012, 261 pages.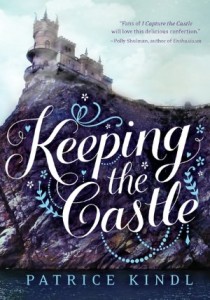 Age/interest level: 13-up.
Althea Crawley, age 17, acknowledges the universal truth that a man of fortune must be in want of a wife, and she's an ideal candidate: beautiful, intelligent, and penniless.  In the very first chapter she is seen accepting the offer of Mr. Goldaming, a young man of means (but no neck).  Unfortunately, he's the type to get his nose out of joint when she lets slip that his money is his most attractive asset—who would have thought?  He huffily withdraws his proposal, leaving Althea at loose ends and growing desperation.
The Austenian influence is obvious, but the narrative edges on satire with the laughable place and character names—Lesser Hoo, Gudgeon Park, Lord Boring, Lady Throstlewhist, etc.  Lord Boring is Althea's next target, and at least he's handsome and pleasant—unlike his disagreeable cousin, Hugh Fredericks.  Within a few pages of their meeting, the reader knows who Althea will end up with, but getting there is most of the fun, as it was with Elizabeth and Darcy.
Any first-person narrator needs to be likeable, and Althea soon reveals that she's not as shallow as she first appears.  Her motivation for acquiring a rich husband is to provide financial security for her widowed mother and little brother, plus some desperately needed repair work on Crooked Castle, their ancestral home.  She means well but has flaws that want correction, so it's a good thing she's open to the positive influence of Miss Vincy, a promising young artist: "Beauty is a coin squandered by time [Althea wisely observes], but Miss Vincy's virtues would last throughout her life."   With her earnest meddling in the lives her friends, she sometimes resembles Emma more than Elizabeth.  Here she tries to match Miss Vincy with Hugh: ". . . I would be able to assist her in keeping her wayward husband in order.  Sweet-natured as she was, I could not help but think she might lack the necessary decisiveness."
Fortunately, two stepsisters are on hand to ensure Althea does not get her way, and all ends happily.  This is a sedate, good-humored comedy of manners, on which 21st century manners are not allowed to intrude too much.  Mr. Fredericks lets the d-word slip once or twice, though.  Darcy would never do that!
For more takes and updates on Jane Austen, see A Truth Universally Acknowledged.
Please follow and like us: