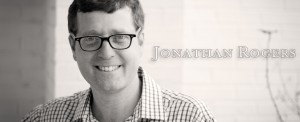 MEET THE AUTHORS
Jonathan Rogers is not only one of the most talented Christian writers for kids' today (see our review of The Charlatan's Boy), he's also kept his own faith while passing through the highest echelons of academia.  He holds a Ph.D. in English Literature from Vanderbilt University, and just recently published a biography of Flannery O'Conner with Thomas Nelson.  An ambitious undertaking, considering O'Connor herself isn't light or superficial reading, as evidenced by her inclusion in a lot of college literature classes.
However, Rogers has a way of speaking common to both good storytellers and the best teachers.  He makes his subject accessible to beginners without belittling or speaking down to them, while at the same time going deep enough to provide new clarity to seasoned readers.  All reasons we are very excited to talk to him today about that new biography, The Terrible Speed of Mercy: A Spiritual Biography of Flannery O'Connor
.
In fact, Rogers says in this project, he actually had one reader in mind:
my singer-songwriter friend Andy Osenga. As I wrote this book, I was writing it for intelligent, well-read Christians who had heard they were supposed to get something out of Flannery O'Connor but never had been able to. When I mentioned that to Andy early in the writing process, he said, "That's me!" So every day when I sat down to write, I was picturing Andy: he was the one-man target audience for this book.
And that's just one of the reasons this book may be just the thing for high school students as well as any adult looking to test the waters of her writing.  (You can actually hear an interview he did with his target audience, Andy, over at the Rabbit Room.)  But for now, let's jump right in!
THE INTERVIEW
1.  Flannery O'Connor is very popular in some Christian circles, but I suspect in others she isn't a household name.  Can you give us a sentence or two to orient readers who haven't heard of her?  What makes her special, and to what literary genre or period does she belong?
Flannery O'Connor was a novelist and short story writer from Georgia–one of the great American fiction writers in the twentieth century. She is best known for her story "A Good Man Is Hard to Find," which is frequently anthologized and taught in literature survey courses, but she also wrote two novels (Wise Blood and The Violent Bear It Away) and twenty or so other short stories. The terms "grotesque" and "Southern Gothic" are often used to describe her work, which is frequently violent and frequently involves characters who are morally and/or physically freakish. A lot of readers don't understand that these are really stories about the way God's grace works in the world. O'Connor was a devout Catholic, and she wrote the way she did because of her faith, not in spite of it (to paraphrase her own summation of things).
2.  The Violent Bear it Away was the title of one of O'Connor's novels, and you point out in the book that it comes from Matthew 11:12, the Douay-Rheims translation: "And from the days of John the Baptist until now, the kingdom of heaven suffereth violence, and the violent bear it away."  You also say that that phrase is "an apt image for O'Connor's entire body of work."  Could you explain a little of what that phrase meant to her, and how O'Connor used violence to reflect her Christian worldview?
In one letter, O'Connor told a friend, "More than ever, now it seems that the Kingdom of Heaven has to be taken by violence, or not at all. You have to push as hard as the age that is pushing against you." She was very conscious that she was writing to an audience who believed that God was dead. So how do you speak of the things of God to people who don't believe God exists, who share no theological language with you? As O'Connor famously said, "To the hard of hearing you shout, and for the almost blind you draw large and startling figures." That's what all the violence and freakishness in her fiction is about; she's shouting to the almost deaf. C.S. Lewis said that pain is a megaphone through which God gets our attention. Something similar is happening in O'Connor. Her characters are so blind and deaf to their situation that only a moment of extremity can awaken them (and, by extension, us) to reality.
3.  Unlike a lot of Christian art, O'Connor's work isn't sanitized.  It is filled with people who are corrupt or freakish in some terrible way, from murderers to hermaphrodites.  She once  commented about this: "if Southern writers have a tendency to write about freaks,'it is because we are still able to recognize one."  Can you tease this out a little?  Why did she see Southern writers as better able to recognize an aberration from the ideal?
The freakishness in O'Connor's fiction is a picture of the fact that we're all broken, all in need of grace. We Christians speak pretty freely, even glibly about the fact that we are all broken. We sing songs about being "weak and wounded, sick and sore." O'Connor depicts that literally, and we recoil. We're okay with the idea of human depravity in the abstract, but fiction doesn't deal in abstractions. Depravity is an ugly business. Sanitized people don't need Jesus very much. One of the things I love about O'Connor's characters is the fact that they so obviously need Jesus. Some of them are mad about it, and some of them try to run away, but they all desperately need God's grace.
As far as the business about freaks and Southerners, that gets quoted pretty often because it's funny, but I think it was kind of a throwaway joke for O'Connor. If I remember the context, she was making a point that Southerners were more theistic in their worldview than other Americans, with a stronger sense of sin, which gives them a better sense of what's ultimately normal and what's freakish. I've never lived outside the South, so I don't feel qualified to judge, but it seems that would be a hard claim to support.
4.  Do you think O'Connor would still choose the same tools today?  Or put another way, do you think her stories will still be as effective for kids who have grown up on The Hunger Games?
That's a very interesting question. I tend to think that she would use the same tools she used in the 50s and 60s, for the simple reason that these stories do still shock and astonish. A friend of mine took her high school class outside to read "A Good Man Is Hard to Find" last week, and they were pretty shaken by it (in a good way). I suspect many of those kids had read Hunger Games. And they were clearly disturbed by the story. I haven't read Hunger Games, though I have seen the movie. We should take a readers' poll at Redeemed Reader: ask everyone who has read both Hunger Games and "A Good Man Is Hard to Find," which they find more disturbing. I have a feeling that O'Connor would come out way ahead on that one.
5.  What is your favorite O'Connor story?  What would you recommend for older teens and adults who might never have read her work before?
I always recommend the story "Revelation" as a starting point. As with all of her stories, an act of violence leads to a moment of revelation, but the violence is much less violent than many of her stories, and the revelation is spelled out a little more clearly. If you read that story, you can better understand what she's doing in her other stories. As for which is my favorite, that changes a lot, but it's usually "A Good Man Is Hard to Find," "Good Country People," or "Parker's Back."
6.  Finally, your fiction feels very Southern and is populated by some spiritually craggy characters that at times feel O'Connor-ish.  What kind of influence have her stories had on your own writing (i.e. The Charlatan's Boy)?
Flannery O'Connor had a huge impact on me as a writer. She wrote in her native idiom–that is to say, Middle Georgia English, which happens to be my native idiom too. (My hometown is less than fifty miles from O'Connor's Milledgeville.) Through reading O'Connor I came to understand that finding my literary voice would mean getting in touch with my own voice–the one I had been speaking in my whole life–not looking elsewhere.
I was an academic before I was a writer. My academic world was Renaissance and seventeenth-century England. I loved Milton and Shakespeare. I still do. But I didn't read Paradise Lost and say, "I want to try doing that." When I read Flannery O'Connor I said, "Oh…I speak this language already." My reservoirs, I realized, were fuller than I had thought: the stories I grew up on, the sensibility that informed them, the turns of phrase. That was how Flannery OConnor impacted my writing. She convinced me that my native tongue could be raw material for literary art.
So grateful that Jonathan Rogers would take the time to speak with us today.  And I hope you guys will come back for our review of the book on Thursday, as well some writers we'd like to introduce you to that share some similar characteristics.
For more on Dr. Rogers, try this Feechie Love Song on for size as well as our Charlatan's Boy review and his previous interview on boys and fatherhood.  And of course, listen to his interview with Andy at www.rabbitroom.com.
THE CONTEST
(***THIS CONTEST IS NOW CLOSED.  Do feel free to join the conversation, though!)
We do have a copy of Jonathan's new book, The Terrible Speed of Mercy: A Spiritual Biography of Flannery O'Connor to give away.  Leave a sentence or two in the comments about why you'd like to read it, and we'll pick a winner at the end of the week!
Reading Ahead for You
Reviews and Resources Weekly in Your Inbox