Captain Awesome (series), by Stan Kirby, Illustrated by George O'Connor.  Little Simon, 2012, approx. 110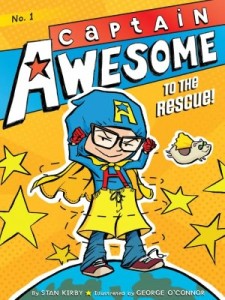 pages.  Age/interest level: 5-7
According to many K-3 teachers I've talked to, the early reader market needs a little more attention, especially for boys.  That's a need Simon & Schuster is trying to fill with Captain Awesome, a series that debuted to much fanfare last April and already has six titles in print.  In Episode 1, Eugene McGillicuddy moves to a new town with his family and starts third grade at a new school.  I remember feeling sorry for new kids at my school, as I was so shy I had enough trouble keeping the same friends year after year—imagine starting over from scratch!  Eugene copes by adopting an alter ego: Captain Awesome (based on his favorite comic-book superhero, SuperDude).  The identity comes with an ordinary hoodie marked with a big A and topped off with a towel cape.  In episode 2, Capt. A turns a rival, Nacho Cheese Man (aka Charlie) into a best friend, and we're off and running.
Captain Awesome Takes a Dive is Episode 4 (the one I read).  It picks up with Capt. A and Nacho Cheese Man on the last day of school, as usual battling Dr. Yuck Spinach in the cafeteria and the obligatory obnoxious girl classmate, Meredith.  But then the bell rings: "Aside from putting evil on an asteroid prison orbiting the twin moons of See Ya Later, is there anything better than summer vacation?"  Capt. A has plans: "1. Learn to be the best swimmer ever. 2. Sleep as late as possible. 3. Stop evil from eviling."  Naturally, villains get in the way, like smarty-pants Meredith and the mysterious Blob in the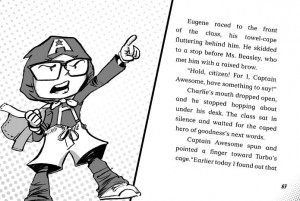 Deep End.  And maybe the Deep End itself—Eugene isn't feeling too awesome about diving class.
These books are not strong on plot and have a habit of biting off chapters just before our heroes tangle with the enemy, so you're not sure how the evil of the moment was defeated.  Even though most readers, older and younger, will understand that Eugene and Charlie are battling bad guys mostly in their imaginations, there are one or two real problems that must be dealt with.  Parents may roll their eyes at verbal constructions like "Queen Stinkypants from the Planet Baby [Eugene's little sister], bobbing up and down in her evil Giraffe Floatie!" Or, "Time to give those sharks a superhero meal with a side order of butt-kicking!"  If your tolerance level for proposed butt-kicking is low, avoid these books.  On the other hand, they're right up a 6-year-old's humor ally, not too obviously restricted to a vocabulary list, and first-graders will feel proud of words they recognize.  And the pictures are cute.  But will overuse of the word evil blunt its meaning?  Just wondering . . .
Traction Man Is Here! by Mini Grey.  Knopf, 2005, 32 pages. Age/interest level: 4-6.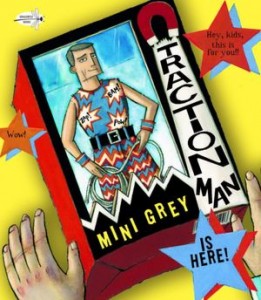 "Dear Santa: Well I expect you know what happened to my old Traction Man and the Terrible Parachute Accident.  Well did you know there's a NEW Traction Man you can buy?"  After dropping a hint this obvious, our nameless young hopeful is not surprised to receive the NEW TRACTION MAN for Christmas: dressed in "warfare shirt, dazzle-painted battle pants and combat boots."  And with his extended wardrobe (jungle fatigues, scuba gear, and space suit), he's ready for anything.
These picture books (three so far) are built on the same basic concept as Captain Awesome: young boys living out their hero fantasies through alter-identities.  Traction Man is not a hoodie but a toy, a GI Joe-like figure with an impossibly  square jaw and a fearless heart.  In colorfully cluttered pages, he rescues farm animals on the Planet Quilt from evil pillows and deep-sea dives into the bath searching for the legendary Toes.  On an expedition through the foamy waters of Sink (one way to make dish-washing fun), he is almost suffocated by a Poisonous Dishcloth, but rescued by the valiant little Scrubbing Brush, who becomes a faithful companion.  Traction Man almost meets his match in Grammy's specially-knit green romper suit (with matching bonnet) but another daring adventure saves the day and his reputation.
Words like "bonnet" (for hood) signal to the reader or readee that Traction Man is a British import, but that doesn't diminish the fun or dent the theme: one good toy and a lively imagination can turn the most pedestrian days into a wonderland of possibility.
 If you have a reluctant boy reader, see our classic post.  And here's this year's collection of Newbery-honor early readers.
Support our writers and help keep Redeemed Reader ad-free.