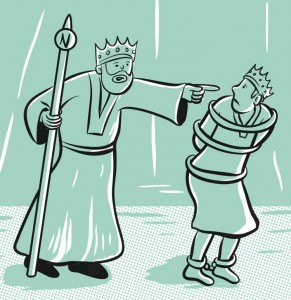 This week Janie and I have the honor of hosting Evan Hughes as our artist-in-residence.  We've been covering the scope of the entire Bible in our Bible Reading Challenge (here's an introduction), and this week we come to…
THE PROPHETS:  Disaster!
Under King Nebuchadnezzar, of whom we'll hear a lot more in the coming weeks, Babylon became master of the world. And Nebuchadnezzar was the instrument God used to destroy Jerusalem, David's holy city.
This was much worse than failure: this was disaster!
It's hard for us to comprehend how great a disaster it was, because we're not used to locating God in a place. But for years, the Israelites had thought of Jerusalem and the temple as God's dwelling on earth—the place they went to meet with Him. In fact, they got a little cocky about it. As long as the temple stood, God was with them no matter how much they ignored his laws and robbed and cheated each other. To see this building in ruins brought about a huge crisis of faith in people like the prophet Habakkuk. Did this mean God's promises no longer applied? That his Covenant with David was null and void?  Did they have any future, or would they be swallowed up in Babylon's maw, like so many other nations of the earth?
Study Guides:
Make-Your-Own-Story-Bible Resources:
MEMORY VERSES
"I will cast off this city I have chosen,
Jerusalem, and the house of which I said
my name, it shall be there."
& "The righteous shall live by faith." Habakkuk 2:4*
(*FYI, we changed the last part of the Bible verse after this memory verse had been recorded.  Feel free to use either this version or the version in the study materials.)
[powerpress]
For last week's study, here's Challenge 29.  Or just see the category link with all the previous Bible Challenges, including coloring pages by Tielman Cheaney, Carl Dean White, and Kevin Luthardt.
And for more on Evan Hughes, see his website, his blog and twitter feed.  We're also planning an interview with next week, too, so look for that to learn more about how he combines his faith and art.
More than 75 books for children and teens, all about islands, oceans, and more. Bonus: get a free hand-drawn reading tracker!
Reading Ahead for You
Reviews and Resources Weekly in Your Inbox