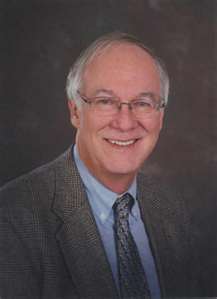 I've known David since the publication of my first novel, when we started seeing each other at children's book events.  He's tall, thin, and genial, and one of the most dedicated writers I've ever known.  Up until a few years ago he managed his family business full-time–while holding to a very active writing. publishing, and speaking schedule.  He's published over seventy volumes of fiction, non-fiction, and memoir, but especially poetry.  David not only writes; he encourages others to write, (check back tomorrow for my review of his "Dazzling and Delightful" book of poetry lessons), and is such a civic-minded presence in his home town they named an elementary school after him!  He travels everywhere during the school year, so I'm all the more grateful he took the time to answer a few questions for us:
1. Could you tell us a little about how you got started writing poetry?  Were you naturally drawn to it more than prose, or did you gradually drift that way?
Like most children of my generation, I enjoyed many of the nursery rhymes. I had my doubts about a few:
Goosey goosey gander,
Whither shall I wander?
Upstairs and downstairs
And in my lady's chamber.
There I met an old man
Who wouldn't say his prayers,
So I took him by his left leg
And threw him down the stairs.
But in general they were fun. The problem was that when I became too old for such playful rhyming ditties, there wasn't much around to create a transition the way Shel Silverstein did for kids who came along later. Yes, I'm that old. So poetry, unless you count Burma Shave Signs, slowly slipped away.
My first efforts to become a writer, in my early twenties, were mostly fiction (The Boy with a Drum, Little Turtle's Big Adventure, The Book of Giant Stories) with a smattering of nonfiction (The World of American Caves, Children Everywhere, What Do You Know!) in the mix. From those early titles to my first poetry book (Somebody Catch My Homework), about twenty-five years passed while I attended to my knitting and wondered, now and then, if there might be some poetry in me.
2. How would you define poetry?
Here's one definition, a poem that I wrote for my blog.
A Poem
A poem is a baby bird,

a voice unheard within its shell

growing cell by cell until

it takes form and bursts forth,

a flightless draft, unfinished, yet

this awkward, needy, naked thing

before long will take wing

and thrill us with its song.
Defining the form of poetry, at least poems written in verse, can be done. It's the spirit of a poem that proves frustrating. A poem requires choosing the best and fewest words to say what you want to say. Three people might use the same number of words to express the same thought and maybe only one would wind up with a poem; or perhaps none would. Or maybe they all would but no one would like the results very much. In the long run a poet must write about all sorts of things until eventually a recognizable voice emerges with a personal style that readers generally identify as poetry. In my case I wrote almost nothing but poetry for three years and kept 100 as the best. That collection turned out to be enough to get me started with Boyds Mills Press. From that collection came my first, second, and third books of poetry: Somebody Catch My Homework, The Boy Who Counted Stars, and A Thousand Cousins. By then I was in my mid-fifties.
3. What are some of the ways an idea for a poem comes to you?  About how long does it take you to write one?  Do you rewrite your poems more than your other writing?
It's hard for me to think of any subject that can't lend itself to becoming a poem. I've written about lost pets, going on a manhunt, being thrown off a horse, ticks and mosquitoes, winking at a girl, spring storms, camping with my son, being frightened by a bear, my first job, sleeping next to my wife, a freed slave, and even cow patties, to mention a few. The writer's job, whether rendered in prose or poetry, is to make meaning, to clarify, to preserve, to create interest that pulls our readers forward.
I probably revise and rewrite about the same no matter the genre I'm in at the moment. I usually write a first draft on paper, take it to the computer, print out a copy, and dig in. Somewhere a dozen to two dozen drafts later I try to call it quits. Was it John Ciardi who said that spontaneity comes after the 17th draft? Whoever it was got it right.
For those kids who ask how many books a day can we write, I tell them that a poem takes me somewhere between two days and a week to complete. I work on other things during that time but my better work seems to come when I don't rush it. A poem put aside for a day or two nearly always benefits from a fresher perspective when I return to it. In one case, The Mouse was Out at Recess, I worked on the manuscript off and on for several years. There are twenty-four poems in the book but I wrote 75 during its development and discarded the others for one reason or another. I started work on that one in 1994 and the book finally made it into print nine years later.
4.  What do you say to a kid who folds his arms and scowls and says, "You can't make me like poetry"?
I tell him he may be right. There's no law that requires anyone to like poetry and lot of people take advantage of that freedom. I say that there are probably more poems that I don't like than poems that I do like. You have to pick and choose. I say maybe he just hasn't run across the right poems yet. I ask what he likes to do or talk about or dream about. Chances are excellent that there are some collections of poems in the library on that very subject.
5. How does your Word of the Month poetry contest work?  How can homeschoolers participate?
Thanks for asking! Each month I post on my blog (http://davidlharrison.wordpress.com ) a single word and challenge poets of all ages and stages to use their imagination and see where it leads them. A number of people come back month after month to post the results of their poetic musings inspired by the current word.
The site is very kid friendly even though many of the posts speak to various writing and literacy issues that may not be of keen interest to the younger ones. I divided the poetry pages into two parts, one for adults and one for students in grades 3-12. To find the right place click on the box at the upper right side of the main page where it says Young Poets "W.O.M." Poems.
I ask teachers who participate with their classes to select up to three poems each month to post. I would love to hear from young home school poets! I appreciate having parental involvement in the same way that I like teacher involvement because it means there is some adult supervision and selection process involved.
6. Do you know any places where kids can get their poems published?
Getting poetry published is extremely difficult for adults. Encouraging young poets to write for the fun of it is generally safer than letting them think they might see their poems in a book or magazine. Even such wonderful publications as Highlights are limited on how many children's poems they can handle in a year. On the other hand, blogs such as mine provide an opportunity to publish children's work online and to receive pats on the back from supportive adults who visit the sites to lend their encouragement to young writers.
7. What are some of your favorite "poetry prompts" for kids?
I like to begin by making lists. Whatever the intended subject – school, family, vacations, flowers, memories, games, pets – a list provides a jumping off place by focusing my attention on the possibilities of my subject. This works for children as well as adults. I also like teach them how to use association to create multiple subjects from a single word. Pick any word and make a list of other words and phrases you associate with it. From that list pick something to start a second list. From the second list, pick something to start a third. In about ten minutes the board is crammed with ideas, at least one of which is sure to prompt a poem.
That's a great idea.  Thanks for taking the time to answer our questions!
Janie, I've enjoyed myself. Many thanks for the invitation.
For several of Janie's reviews of David's books for children, see here.
Reading Ahead for You
Reviews and Resources Weekly in Your Inbox