The title is a misnomer; poetry is for girls, too—and humans in general.  In spite of my lazy attitude toward it, poetry is the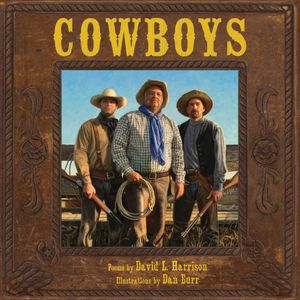 highly personal act of touching the heart of human experience in a way that communicates like nothing else.  Not to everyone, of course.  But to enough.  With over seventy books to his credit, most of them poetry, David Harrison should have a poem or two for just about every taste.  When I asked him in Tuesday's interview what to say to a boy (for instance) who insists he doesn't like poetry, Harrison suggested that that kid might just need to look a little harder at what's available.  And I would suggest his latest published book of poems . . .
Cowboys, by David Harrison, illustrations by Dan Burr.  Boyds Mill Press, 2012, 46 pages.  Age/interest level: 7-up.
This is Harrison's second collaboration with Burr.  The first was Pirates, published in 2010, and what characterizes both is realism.  Though expressed in verse, the hard life of either calling is not romanticized, even though the innate romance of sea and prairie pushes through.  Cowboys begins with "Sign Me Up": "Every year I say I'm quit,/ had my fill a-drivin' cows to Abilene./ Sign me up again?/ I reckon not."  But then the old hand has second thoughts: "Man can think/ out there on the prairie,/ lyin' at night by a good fire,/ swappin' stories,/ lookin' at stars./  Don't know, really,/ what else I'd do./ Aw, sign me up."  Subsequent poems soliloquize on the cowpoke's gear, lodging, everyday chores, heading out, sleeping under the stars, stampedes, grub, and the final blowout in Abilene.  Some rhyme, most don't.  The pictures are amazing–Burr does most of the work with computer graphics, using his Idaho neighbors as models, and his work compliments the text beautifully.  By the last page most readers should be stuffed with sky and waving prairie grass, like the old cowboy who feels that big lonesome calling him back to the range year after year:  "Aw . . . Sign me up."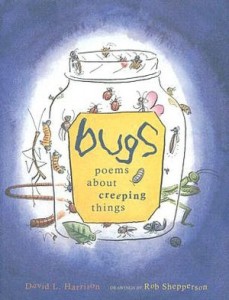 Bugs: Poems About Creeping Things, by David L. Harrison, with drawings by Rob Shepperson. Wordsong (Boyds Mill Press), 2007, 55 pages.  Age/interest level: 4-10.
What child isn't fascinated by bugs?  Whether creepy or crawly, fluttery or flitty, these tiny creatures are often a toddler's first nature lesson.  So this book is perfect for beginning poetry lessons, too.  Of the forty bugs included in the collection, some are mysterious, like "Cicada Ghosts": "Haunted skins/ cling/ emptily/ to the rough bark/ of the hackberry tree,/ and farther up/where I can't see/ ghosts are/ buzzing/ eerily . . ."  Some are whimsical: "Millipede/ giggles/ wherever/ he goes./ Grass/ tickles/ all of those/ toes."  Some are edifying: "Since we have/ to have the/ chigger,/ let's be grateful/ he's not/ bigger."  And some make you think, like "a tick's friends:  "a tick has/ no/ friends./  therefore,/  my/ story/ ends."  As in most Harrison books, some of the poems are for two voices, so little readers can join in with the buzzes or traffic noises or a roach's list of likes and dislikes.
Easy Poetry Lessons That Dazzle and Delight, by David L. Harrison and Bernice E. Cullinan.  Scholastic, 1999, 128 pages.  Grades 3-6.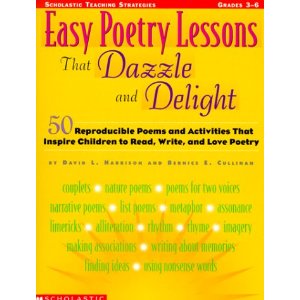 Several years ago I was asked to do a poetry class for elementary age homeschoolers.  I've never taught poetry and know embarrassingly little about it, but this book gave me confidence.  As it turned out, the class was small: 5 boys and one girl.  They were mostly, if not entirely, signed up by their mothers.  It turned out to be one of the most fun classes I've ever taught, for me as well as the kids.  Though designed for classrooms, the lessons (called "Strategies") are easily adaptable to the home, the co-op, or the book-festival extravaganza where a few more activities are needed to fill the gaps.  Thirty-six strategies can fill an entire school year at one per week: under "What Poetry is All About," you'll find such topics as Imagery, Simile, List, Concrete, and Narrative Poems.  "Playing With Words" addresses Onomatopoeia, Alliteration, Assonance, and coining your own.  "Patterns of Poetry" moves into more advanced territory, such as the Foot, Couplets, Limericks, and various Stanzas.  "Finding Ideas" answers that old complaint: "I don't have anything to write about!"  A final chapter, much appreciated by teachers the world over, fixes an eagle eye on what to look for when revising.  Each Strategy includes an exemplary poem by well-known practitioners such John Ciardi, Edward Lear, James Whitcomb Riley, Hilaire Belloc, Christina Rosetti . . . and other poets who aren't dead yet, like Judith Viorst and, of course, David Harrison.  A Two-minute Warm-up reinforces the day's lesson and pushes the fledgling poet up the first step, followed by an Activity (most requiring collaboration) that will produce an actual poem.
With well forty volumes of children's poetry to his credit, any review of David Harrison's poetic c.v. is bound to be sketchy.   He's usually associated with light, humorous verse (like Bugs and his first offering, Somebody Catch My Homework).  Cowboys, though leavened with humor, is also thoughtful and deeply human.  Older titles, like Wild Country (1999) and The Purchase of Small Secrets (1998) are designed more for savoring than laughs, of the kind that a reader can look up from reading and perhaps see the world all around just a little clearer.
Poetry is shelved under 811 in the Dewey Decimal system.  The next time you're at the local public library, it might be a good idea to browse the titles under 811.54H, and chanced are you'll find a poem or two that the kids would actually like.
And see our interview with David here!
Support our writers and help keep Redeemed Reader ad-free.
Reading Ahead for You
Reviews and Resources Weekly in Your Inbox