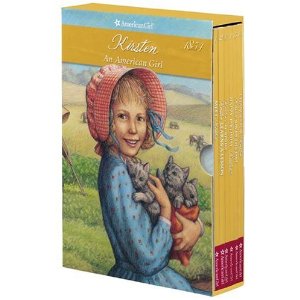 The American Girls books are in some ways the premier girls' reading series for girls who are emerging readers.  Among conservative families, at least, they often enjoy pick of the litter status.  One reason is because the series, begun in 1986 by Pleasant Company, focuses on female characters aged 9-11 in various eras in American history–World War II, the Civil War, the American frontier, etc.  They are educational and many parents like that.  Some of their popularity also has to do with the worldview being presented, but I'll get to that in a minute.  But they are also generally well written, and in a brilliant marketing move, the books were tied to dolls of the girls…which you can purchase sans accessories for about $100.   (And that's only the beginning.  You can purchase matching dresses for your doll and child from each girls' historical period, and don't forget the movies!)  Kind of like the kids' cereal mantra, the American Girl franchise is "kid tested, mom approved."
But by the time your child is able to read the American Girl books, chances are she will have already outgrown your ability to keep up with what she's reading.  In a lot of ways, that series marked a change for me–now, instead of reading books together most of the time, my job is to pick my daughter out a stack of books from the library that she can read on her own.  Which means that most of the time she zips right through the American Girl books we get each week without my supervision.
But occasionally I'll hear tidbits, mainly through offhand comments and questions about something she read; lately it's been one of the wars she read about (she's constantly asking, "Mommy, what war are we in now?")  or phrases that seem out of place.  One of the first I noticed was when we were acting out a story together and I asked her where we could get money for a project.  She answered, "I know, from mother's dresser drawer!"  Grrr.  That's obviously NOT a phrase she picked up from me.
And then there was the day she announced, "You know, Rebecca [from an American Girls book] is Jewish."   Okay, I said.  But she kept bringing it up, like it was a strange, bizarre but noble characteristic.  What disturbed me wasn't that she had read a book about Jewish girl.  What bothered me was that she seemed to see it as defining the girl in a way totally separate from what kind of movies the child liked or her favorite food.  Being Jewish somehow put her in a different class of people–I got a whiff of a our culture's preoccupation with religion.
So we had a conversation about Jesus and religions that don't believe in Him, all the while affirming the character Rebecca's many good qualities.  We are saved by grace through faith, and everything else is generally some kind of moralism.  Is Rebecca a good girl?  Yes, maybe better than us.  But she is still sinful and she still needs Christ.  Pretty basic stuff, but I was very happy that I didn't miss that opportunity.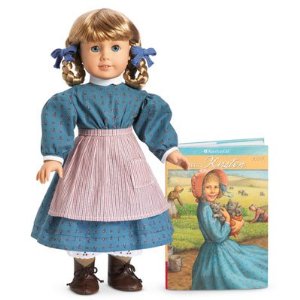 So, in order to create more opportunities for discussion with her–and to give you guys a better idea of how the books may be affecting your kids–I decided to start a series of American Girl book reviews with daughter.   We'll start next week with one I happen to have read, Kirsten.
Kirsten is an immigrant to American from Sweden, and she and her family make the dangerous voyage across the Atlantic in hopes of starting a new, better life with family who already own farmland in America.  It's also a story in which the main character loses a good friend–another girl her age–to cholera.  And I'll give you guys some of my analysis of the worldview being conveyed, and whether Christians are wise to let children as young as my six-year-old daughter encounter a subject like death by non-Christian writers.  But more than just my own thoughts, I'm hoping she'll let me record a conversation with her–so that you guys can hear bonafide kid-reactions to the story, as well as to maybe encourage you guys to have your own–maybe very different–conversations with your own kids.  And may the Lord in His infinite grace bless our efforts to bring His light into stories where He seems to be distant or even absent.
To read our first American Girl review, see Meet Kirsten.  Or see our review of two of Rebecca's books, Meet Rebecca and Candlelight for Rebecca.
More than 75 books for children and teens, all about islands, oceans, and more. Bonus: get a free hand-drawn reading tracker!
Reading Ahead for You
Reviews and Resources Weekly in Your Inbox