Today's reviewer, Jack Mertens, is a 17 year old high school student living in Louisiana where he is, among other things, an avid reader and comic reviewer.  Oh, and let's not forget he's one of our beloved interns!  You can read his first reviews for us in our Presidents' Day post, or find more of the comic reviews he and his brother write at Flint and Bone's Comic Reviews.  In this post, he'll consider two graphic novels by World Magazine editor, Marvin Olasky which he says may be appropriate for older teens.  While we're talking about Mr. Olasky, I (Emily) should add that he has two books that I would consider required reading for my teens: Unmerited Mercy: A Memoir, 1968-1996
and The Tragedy of American Compassion
.  This post is Jack's first of two posts on Kingstone graphic novels.

A note from Jack: This week I'll be reviewing some graphic novels from Kingstone Comics.  I am starting off today with a couple of graphic novels that have some problems, but that could be a good influence on teens who already read a lot of this genre.  Be sure to watch for my follow-up post later in the week which will include an interview with Art Ayris–the publisher of Kingstone–and a graphic novel from Kingstone that you won't want to miss!
Even a glance at the covers of Kingstone Comics' 2048 and Echoes of Eden will tell you that these graphic novels are not for kids.  Written by Marvin Olasky, the covers on these books are dark and serious-looking, and the content inside isn't much different.  2048 and Echoes of Eden are both ambitious graphic novels that confront looming social issues head on.
2048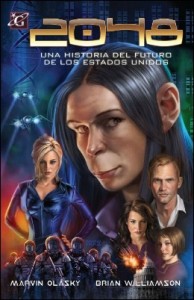 The year is (you guessed it) 2048.  The United States is embroiled in struggles both without and within.  But the biggest problem in this time period is what to do with Bumans—genetically engineered chimeras—human-monkey hybrids.  2048 follows the story of Josh Logan, a former baseball player who is now a politician torn between doing what he believes is right and winning elections.  As Logan seeks reelection, he must make important choices about whether Bumans should be treated like humans—and hopefully before it is too late.
The book puts forward the idea that in all issues relating to human rights—and matters of personhood—people should err on the side of mercy.  In 2048, Bumans are seen confined in concentration camps, told that they aren't human, that they don't have souls and can't go to heaven.  Olasky doesn't seem interested in answering these questions definitively; instead, he focuses on the idea that Christians should demonstrate grace and assume the affirmative.
Though I like the message, the artwork isn't stellar all the time.  While the cover of 2048 looks like a movie poster for Star Wars, Iron Man, or some other kind of action movie, the actual artwork inside isn't quite as good—mostly due to flat line weights: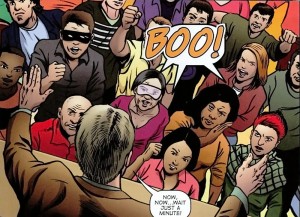 While some pages are better than others, it often seems like the inker just went over the pencils for this graphic novel with a Sharpie or ball-point pen.
The plot progression is pretty good overall, but it is too rushed for my liking—had Olasky doubled the length of 2048, I think the result would be better.  There would be more time to establish settings, characters, and plot lines.  Without the luxury of extra page space, many setting descriptions are crammed into dialogue and what might have been an extremely original science fiction/futuristic world is stripped down, leaving the setting very vague.
In terms of content, I must say I was surprised by how dark this story was.  Olasky doesn't shy away from showing his vision of the future, even when that vision is extremely dark.  For example, the villain in 2048 is a sultry pornographer who is running against Logan in the election.  This and some of the dialogue, while not explicit, definitely may be off-putting to some readers.  Nevertheless, 2048 is an ambitious first attempt at comic book writing for Olasky, and the message is a good one.
Literary Quality: 2.5 out of 5
Worldview/Morality: 5 out of 5
Echoes of Eden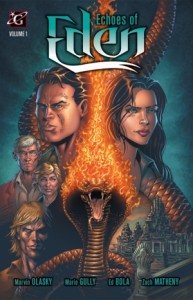 Echoes of Eden tells the story of Tom Holmes, a history professor who travels to Cambodia after his brother—the host of a popular TV show—turns up dead there, with snake-like symbols etched into his flesh.  As Tom explores his brother's past, he meets a lawyer named Rebecca who fights sex traffickers throughout the world.  Soon it becomes apparent that certain people will do anything to stop Tom's investigations.
Again, Olasky confronts a social issue, with (in my opinion) better results than in 2048.  In addition, Olasky shows how the mythology and stories of many ancient cultures reflect the truth of Biblical history–they are echoes of Eden.  For example, Olasky shows how the prevalence of serpents in ancient legends reflects the account in Genesis 3 of the Serpent.
Overall, I liked Echoes of Eden more than 2048, but there were still a few problems.  First of all, if Rebecca fights against sex-traffickers and is a Christian, why does she wear skimpy outfits and frequent bars (that's where she meets Tom)? a country full of sex traffickers, isn't that just asking for trouble?  It seems the artist for Echoes of Eden just wanted to draw a curvaceous female lead character, regardless of whether that made sense for the purposes of the story.  And while I liked the look of the artwork in Echoes of Eden, characters seemed to blend together—there are too many stern-looking, clean-shaven men with dark hair to tell apart sometimes.  If this comic book were a movie, it would be rated at least PG-13—there's drug use, a few of implicit references to sex, and some graphic violence.
Literary Quality rating: 3 out of 5
Worldview/Morality rating: 4.5 out of 5
I want to emphasize that 2048 and Echoes of Eden are not bad graphic novels, though not perfect either.  Olasky, being a Christian, is able to tell stories which, however much sin and evil they portray, always show sin as exactly that—an affront to a holy God.  Also, Olasky doesn't lampoon Christianity as many non-Christian authors are wont to do: case in point is the pastor in 2048 who proves to be a brave and wise character, not the weak-minded bumpkin that mainstream Hollywood would have us think clergymen are.  So even though Olasky includes some things that one might see in secular comics, his perspective on those things is what I find to be important in the end.
Overall, 2048 and Echoes of Eden are both very interesting graphic novels.  Olasky tackles social issues head on, and the results are not bad for a first attempt at comic book writing.  I would recommend these two graphic novels for older teens because, although the artwork is only average, the topics and plots are thought-provoking, and the worldview is unswervingly Christian.
Janie reviewed some of Kingstone's Bible story comic books here.  And for something a little different in graphic novels, check out our review of Hereville: How Mirka Got Her Sword.