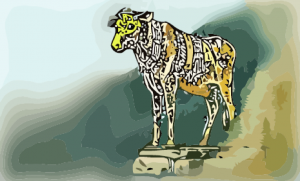 THE PEOPLE: FAILURE!
After receiving the law from God on Sinai, this week we learn about how the Israelites experience their own weakness and sinfulness under its weight.  Even Moses doesn't come out looking good.  Will God forsake His people?  Or could He have another mediator in mind all along?
Study Guides:
Make Your Own Story Bible Resources:
If you've just stumbled on our website and this looks intriguing, it's never too late to join in!  Here's the Introduction.  If you have just a little catching up to do, here's Challenge #11.  And again, we're so thrilled to have Carl Dean White doing all our illustrations, including the lovely idol above.  Check out more of his Christian art here.