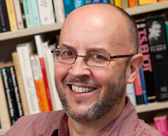 Alan Jacobs is Professor of Literature at Wheaton College, where he went to teach for two  semesters and stayed for 28 years.  Teaching is his joy, and writing is his particular gift, and God has placed him where he can speak to both the Christian and the secular academic world (see this interview with PBS, for example).  His interests are wide-ranging, but an early and deep love of literature powers his latest book, The Pleasures of Reading in an Age of Distraction (reviewed here).  He was gracious enough to spare a little time for our questions about encouraging our own little readers.
1. Looking over the cultural landscape, are you more encouraged or discouraged about "the future of reading"?
I don't feel that either of those words is quite right for me — I think because I believe my responsibility, in the matter of reading, is to be an encouragER. I need to be encouraging others to read, not to worry about whether I myself am encouraged! Every human situation is full of problems and full of opportunities; I just want to make sure, as a steward of my gifts, that I use the opportunities as best I can.
2. How would you suggest parents promote reading to their children? For instance, should they insist on a certain standard (whether low or high) or let the kids read pretty much what they want?
I think reading is one sphere of experience where variety is supremely the spice of life. People in general — and therefore kids in particular — ought to be free to read a wide variety of things. I tend to think it's best for kids to get the habit of reading by exploring books that they enjoy — but then at some point it's good for the parents to say, "If you liked that you might also this. Give is a try. It might be a challenge, but I bet you're up for it."
3. What's your definition of "trash"? Or do you have one?
I don't, really. I think C. S. Lewis was right in his Experiment in Criticism to place a lot more emphasis on what the reader brings to the book than on the book in itself. Even a great book can be read badly. I believe if you think about the kind of reader you want to be, the place you want reading to have in your life, then the question of what you read will largely settle itself and then you can think about how you read.
4. I appreciated your observation that noise is not a modern phenomenon. But distractions do seem to be multiplying in the digital age. How would you advise a reader to reclaim the silence?
The only way to do it, I think, it to find some time each day when you can't get to the distraction machines. Leave your laptop at home and your phone in the car and go sit for an hour in the library or coffee shop, wherever you read best. If you're at home with someone else, give that person your phone and forbid him or her to return to to you for an hour — or maybe two! If the distraction machines are in our reach we'll use them, so get them out of reach.
5. Do you have any ideas about how a homeschooling parent can encourage a habit of responsive reading in their children? Or is it even advisable until high school or college age?
Responsive reading is a great virtue for all ages! You promote it by asking questions. If you've read the book that a child is reading you can ask detailed ones, but even if you haven't read it you can ask, "Who's your favorite character? Why? What do you like best about the book? What do you like least? Would you recommend this to anyone? Whom would you recommend it to? Why would you recommend it?" Just getting them to put their instinctive responses into words is a great way to encourage them to formulate those responses more precisely.
6. Christians are known as "people of the book." Do you see a greater obligation for Christians to be close readers, as opposed to unbelievers?
I don't think of it in terms of "obligation" but rather as a natural consequence of being Book-focused. If you take all American colleges and universities, about 3% of students major in English. Here at Wheaton College it's closer to 10%, and that's in part because my students come from Bible-centered families who give to their children the message that what they read, and how they read it, can be vitally important for their lives. This makes them inclined to be receptive to words on the page. It can also make them more sensitive to words on the page in ways that can create struggles: my students respond more powerfully to words than the average American young person would. So that poses challenges for me as a teacher — wonderful challenges, but challenges all the same. It's just natural that people who revere Scripture would be more attentive to the written word than most other folks.
Support our writers and help keep Redeemed Reader ad-free.