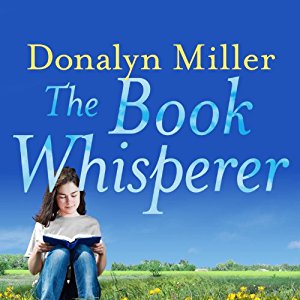 Our librarian is always reminding moms that it's not enough to read TO your children.  To raise readers, you also need to read in front of them.  You have to model your value of reading for it to really stick.
Now, to be fair, there are times in a mom's career when extra reading just isn't possible.  I'm just coming off one of those times myself, when my oldest was very sick for an extended period.  So, I don't want to pile guilt onto moms who are in one of those black out times of motherhood. It's ok to take a break for a while.
But now that things are back to normal at my house, I'm ready to jump back in.  Of course, even during the easy times, it can be very challenging to find time to read.  Which is one reason I've appreciated The Book Whisperer by Donalyn Miller
.  While much of what she writes about is applicable only in a classroom setting, her ability to inspire children through her own knowledge and love of kids' books is pretty amazing.  She includes copies of handwritten notes from the students–many of whom come into her class hating to read but leave hooked.  One boy had read no books at all the previous year, but as a student in her class he read 40 books, many of which he read on his own time and for no classroom credit.
So, today I'm asking myself, am I excited about reading?  If so, do my kids see that?
One of the keys for Ms. Miller's success in getting her kids to read is in the way she teaches them to capture extra moments throughout the day for reading.  She lets her kids read in class, but she also teaches them to read while standing in line for the bus or in between classes.  She writes about how her husband showed her the value of always keeping a book on hand while out running errands or going anywhere at all.
If I'm going to be a mom who reads, that's how it will have to be–stolen moments in the day.  So I thought it would be helpful (and also funny)  to share with you this list made by Ms. Miller's class, as a way to get us thinking about some of those wasted moments that could be redeemed.
UNUSUAL PLACES TO READ
shower
empty bathtub
under the bed
grocery store
closet
roof
stairs
on top of brick mailbox
hedges and trees
trampoline
using dog as a pillow
in the open trunk of a car
I just love that list.  It always makes me smile to imagine little preteens hiding around my neighborhood with a good book.  (Instead of throwing rocks, for instance….)  My husband says he has read in the shower, too, though I have to admit…some zones like that will probably always be book free for me.
MY ONE THING
So, here's what I'm promising today.  The one thing practical thing I'm going to do to increase my adult book intake is to add a new audiobook to my mp3 player and listen while I'm cooking and cleaning by myself.  It won't add that much time, really, because much of my cooking and cleaning is done with my kids, helping them and singing with them and teaching them how to do tasks around the home.  But some of it is done alone, and I could listen to a book instead of just random radio.
How about you?  What's one thing you could do to steal time for reading this week?
Since we're starting Reformation Month at our site, I think I'll listen to Pilgrim's Progress.  Anybody care to listen along or know of a good, cheap version I could download?  If I find one, I'll link to it here soon. 
And if you'd like more practical advice and encouragement about reading, try Janie's Raising Writers in Four Simple Steps.  Or our Ereader Safety podcast with Malechi Tech Guy. This title is also part of our Literary Nightstand Series.
More than 75 books for children and teens, all about islands, oceans, and more. Bonus: get a free hand-drawn reading tracker!
Reading Ahead for You
Reviews and Resources Weekly in Your Inbox