Rules of the Road by Joan Bauer. Speak, 2005. 208 pages
Reading Level: Young Adult, ages 12-15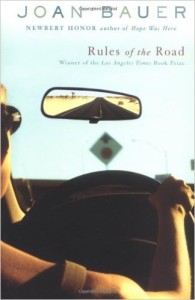 Recommended for: ages 12-16
Bottom Line: Good-hearted Jenna Boller overcomes numerous obstacles to achieve her dream of becoming the world's best shoe salesperson.
It's not easy being the tallest girl in the whole school and living with an alcoholic father at home, but at least 16-year-old Jenna has a job. More than that, a mission: as a seller of quality footwear at Gladstone's Shoes' flagship store, she loves sending customers out on happy feet. Her enthusiasm catches the eye of none other than crotchety Madeline Gladstone, widow of the founder, who engages Jenna to drive her from Chicago to Dallas for an important stockholders' meeting. Along the way Jenna will discover some unsavory facts about her boss's son Elden and his plan to merge the family business with a "shop and schlock" megastore. But, to no one's surprise, she'll develop a bond with Mrs. Gladstone as they share laughs and tears, and come home a better person.
Two things I like about Joan Bauer: first, her good characters (see Hope Was Here, Close to Famous, and Squashed) are more vivid and proactive than the bad ones. A typical Bauer villain is clichéd and properly unappealing, while the heroine has a sense of humor, a skill, and a determination to succeed. That relates to the second thing I like: her protagonists work. Their passion is usually a simple, unglamorous calling most teens wouldn't think twice about. Ellie Morgan (Squashed) wants to grow a championship pumpkin. Hope Yancey (Hope Was Here) is a stellar waitress. These girls find satisfaction in being of service and striving to do better. Their religion is fervent but indistinct, their politics (if any) are liberal, and characters occasionally violate the third commandment. But the work ethic is appealing, as well as the self-deprecating, sometimes-ironic-but-never-cynical humor voiced by Jenna and protagonists like her. There are worse ways for a young reader to spend her time.
Cautions: Language (occasional misuse of God's name)
Overall Rating: 4 (out of 5)
Worldview/moral value: 4
Artistic value: 3.5
Categories: Young Adult, Realistic Fiction, Character Values
Support our writers and help keep Redeemed Reader ad-free.