We're delighted to welcome Jonathan Rogers to our site today, as one of our "writing fathers."  Jonathan is Georgia-born, with an undergraduate degree from Furman University and a PhD in 17th-century English literature from Vanderbilt.  Today he calls Nashville home, where he and his wife are raising a "houseful of robustious children."  Last week we reviewed his novel, The Charlatan's Boy, and we just know that made you all want to know more about him.  So enjoy, and be sure to take a look at his blog for more good Feechie stuff.
1. Why do you write for children?
I conceived of the Wilderking books [The Bark of the Bog Owl, The Secret of the Swamp King, and The Way of the Wilderking] shortly after reading Eldredge's book Wild at Heart. Though I don't agree with everything in that book, it did cause me to put some thought into the value of wildness. There's a wild streak in each of us, and God put it there. It's not just something to be domesticated out of us, but something to pay attention to and value. The Wilderking books were a way to talk to my boys about those things. After all, I couldn't very well sit an eight-year-old down with Wild at Heart and tell him to have at it. So that's how I got started writing for children.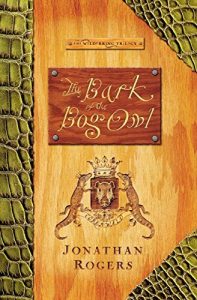 That's not to say, however, that I started with a message and crafted a "children's book" to convey that message. Rather, the story took shape as I pondered the role of wildness in a man's life. If there are lessons, I try to let them take care of themselves.
I should also point out that I write the kind of books that I would want to read, whether a book's target audience is children or not. I don't try to imagine what a child might find funny or interesting. I write what I find funny and interesting, trusting that a fifth grader will probably agree. Obviously I have interests that children don't share; but the overlap between what I like in a book and what kids like is big enough to give me plenty of room to work. I was reading a kids' book the other day, and there was some corny joke in there that just wasn't funny. It seemed obvious to me that the author thought it was something that kids would find amusing, but there was no way in the world that she could have thought it was funny herself. She probably called that "writing for children." Children deserve better.
One other thing I want to say about why I write for children. Fiction is a way for a person to try on other selves. I think that's an incredibly important thing for children (and the rest of us) to do–to imagine what it would be like to be another person. That's the very basis of empathy and love. For that matter, it's vital to a basic understanding of how the world works.
2. What are your three favorite children's books?
I'll tell you three of my favorite books for children–the ones that happen to be on my mind today. If you ask me tomorrow, it won't be the same list.
The Yearling by Marjorie Kinnan Rawlings. I love everything about that book. The prose is beautiful in a straight-ahead, very American way. Rawlings's treatment of the natural world reminds us that transcendence roils just below the surface of the world we live in, threatening to bust out at any time. And the sadness…I think children need sad books. (Kate DiCamillo is a genius when it comes to sadness). Children feel a lot of sadness, and they need to know what to do with it.
Sidney and Norman: A Tale of Two Pigs, by Phil Vischer. It's hard to find children's books that are really about grace. They tend to be about morality–teaching kids about actions and consequences. I'm not opposed to moral books, of course, but I'm always on the lookout for books about grace. Sidney and Norman, a picture book, knocks it out of the park.
The Hundred Dresses by Eleanor Estes. Another sad book. A girl's sad situation is redeemed by her willingness to forgive, and her willingness to bring beauty even to classmates who torment her.
Bonus book: The Jesus Storybook Bible by Sally Lloyd-Jones. I see you've already reviewed it on your site. Well done.
3. How is the theme of fatherhood (opposed to parenthood generally) explored in The Charlatan's Boy?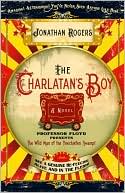 For better or worse, we tend to believe what our fathers say about who we are. A mother says, "You're a really special kid," and the kid says, "You're just saying that because you're my mom." It may not be fair, but when a father says "You're something special," the kid is more likely to believe him. When a father says (perhaps without words) "You're a loser," a kid believes that too. A father who leaves a child sends a message that is very hard (though not, of course, impossible) for a mother to counteract with her reassurance.
The orphan Grady misses the comfort of a mother, but he feels even more strongly the loss of a father who might be able to tell him who he really is. The Charlatan's Boy is a story about identity–it's about a boy who doesn't have a name (the charlatan Floyd, by the way, never calls Grady by his name in the whole book). All these identity questions are tied in with the absence of a father.
I realize, by the way, that these distinctions between the role of the father and the role of the mother are over-generalized and not properly supportable. But you asked.
4.  How is Grady like kids today?  What about him can they best relate to?
Grady is like kids of any era. He doesn't yet know who he is, and he's groping around, trying to figure it out. His is just an exaggerated case of what every kid feels: I have these conflicting feelings, these conflicting views of myself, and I don't know which is a clue to the "real me." I'm not sure anybody really delights in me. I'm not sure I've got what it takes. Even a child in a happy home feels like an orphan sometimes–feels that there's nobody who really understands him, doubts that there's anybody he can get a straight answer from. To write about an orphan is to talk about these issues in a concentrated form. The fact that the orphan Grady is also a contender for "ugliest boy in the world" concentrates things even further.
5.  How did you come up with the idiosyncratic language of The Charlatan's Boy?
It's not as idiosyncratic as it looks. I was drawing on the "Southwestern Humor" tradition. Funny sketches of American life written in vernacular were very popular in nineteenth-century newspapers. Lots of boasting and brawling and carrying on in wildly exaggerated language. Mark Twain took that language and made Tom Sawyer and Huckleberry Finn out of it. I was doing something similar, trying to harness the energy of that comic tradition in the service of divine comedy.
6. In a nutshell, what's your advice to a young writer?
Pay attention to the world around you. This world is swirling with stories; the first skill of the writer is to capture them, to make sure they don't get away.
One other thing: When aspiring writers want advice, they often want advice about publishing rather than advice about writing. To those writers, my advice is to tend to the sowing and let the reaping take care of itself. Writing is a very good use of your time whether you ever get published or not.
Great advice!  And I would add that all prospective writers should be voracious readers. Readers might also enjoy Stand Fast, by Douglas Bond, whose podcast interview is worth a listen.  And if you're new to Redeemed Reader, check out our Father's Day posts: Is Your Son 'God's Mighty Warrior'?, and Who's Your Daddy?
Stay Up to Date!
Get the information you need to make wise choices about books for your children and teens.
Our weekly newsletter includes our latest reviews, related links from around the web, a featured book list, book trivia, and more. We never sell your information. You may unsubscribe at any time.
Support our writers and help keep Redeemed Reader ad-free by joining the Redeemed Reader Fellowship.