Becoming Me, by Melody Carlson.  Multnomah, 2010.  (Diary of a Teenage Girl series #1.)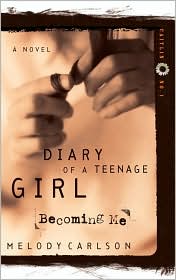 Reading Level: Young Adults, Ages 12-15
Maturity Level: 5 (ages 12-14) and up
Bottom Line: Becoming Me effectively explores the issues faced by a Christian teen defining her walk in the current culture of casual sex and the pursuit of social status.
Caitlyn O'Connor is deep in teenage drama when the story opens: drifting away from her long-term bff, beginning to move in popular circles, dating Josh, a boy she likes but doesn't trust.  After being deceived and dumped by the new bff, Caitlyn returns to her previous friend, Beanie, who has become a Christian through her friend Zach.  Curious, Caitlyn starts going to church with Beanie and Zach and in time (actually, not too much time) accepts Christ as her savior.  Then the drama really begins.
The main struggle has to do with sex.  Beanie and Zach compromise their own standards and drift into a serious relationship that ends with Beanie getting pregnant and Zach losing interest in her.  At the same time Josh, who is a more substantial person than he appeared at first, is led astray by Jenny, the popular girl.  These negative examples cause Caitlyn to think long and hard about relationships, and eventually to kiss dating goodbye.  This cements her conversion and she experiences no doubts about it for the rest of the story (which still has about one-quarter to go).  Future books will show the effects of her no-dating decision and chart the relationship of Caitlyn and Josh on their Christian walk.
I appreciate the fact that "making a decision for Christ" is only the start; Caitlyn is saved less than halfway through, and in the other half must decide what salvation means.  "[T]o follow God is a conscious choice [says her youth leader] . . . but you had to give up yourself entirely–and you had to surrender your whole life to God's son Jesus Christ–'Relationship is more important than religion.'"  To those of us who are farther along, this will seem like theology lite, and there's a little too much drama, especially when the youth leader, Clay, is killed in a school shooting.  (An incident that momentous shouldn't be introduced in the last quarter of a novel because there's not enough room to deal with it sufficiently.)  Christian couples who rationalize their way into a sexual relationship are unfortunately common, so whether they give up dating or not, it's an issue girls need to consider carefully.  Diary of a Teenage Girl might be helpful.
Cautions: none
Overall rating: 4 (out of 5)
Worldview/moral value: 5
Artistic value: 4
Categories:Realistic Fiction, Christian, Young Adult, Christianity, Life Issues, Character Values
More than 75 books for children and teens, all about islands, oceans, and more. Bonus: get a free hand-drawn reading tracker!
Reading Ahead for You
Reviews and Resources Weekly in Your Inbox