The Emerald Atlas (#1 in the Books of Beginning series), by John Stephens. Knopf, 2011, 432 pages.
Reading level: Middle grades, ages 10-12
Maturity level: 4 (10-12) and up
One-line Summary: The Emerald Atlas is an exciting fantasy for middle grades, but draws so many elements and plot points from other fantasies it has little individual character.
Kate barely remembers when her parents disappeared, and her younger siblings Michael and Emma don't remember them at all. The children have been living a miserable existence (think A Series of Unfortunate Events) until they are sent to Cambridge Falls, a place that exists only in another dimension (like in A Wrinkle in Time and His Dark Materials). There they make the acquaintance of the mysterious Dr. Pym, their new guardian, who knows much more about them than they were led to believe. He knows they are children of destiny (like Percy Jackson) whose parents (like Harry Potter's) were involved in combating a massive evil plan (like countless fantasy central conflicts, satirized in the title of one of James Patterson's Maximum Ride installments, Saving the World and Other Extreme Sports). From Dr. Pym's house, they are launched on an adve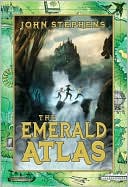 nture that takes them forward and back in time, touches the magical foundations of reality, plunges them into desperate situations and hairbreadth escapes, and thoroughly confuses the reader—meaning me, who suffers from menopausal memory.
Younger readers will enjoy the action and humor and swift pacing, as I did except when confused by the time shifts or distracted by echoes of Lord of the Rings, The Lion, the Witch and the Wardrobe, Orpheus, Star Wars, et al. Every fantasy author draws from a well of common fantasy elements and themes, but the world he constructs should have enough authenticity of its own that the readers doesn't hear those echoes. The Emerald Atlas doesn't quite cover its tracks, for me. The author writes well—sometimes beautifully—though I was sometimes distracted by his habit of double punctuation (?!) and run-on sentences.  The overall effect to this elderly reader is that The Emerald Atlas represents a kind of back-to-basics movement: enough of this dysopian-paranormal-steampunk stuff; here's a classic in the Tolkein mold!  And very enjoyable for those who aren't reminded of so many other stories.
Cautions: none
Overall value: 3.75 (out of 5)
Worldview/moral value: 3.5
Artistic value: 4
Categories: Middle Grade, Fantasy
Please follow and like us: