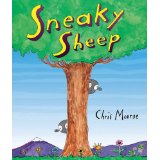 Sneaky Sheep, by Chris Moore. Carolrhoda, 2010.  32 pages.

Reading Level: Picture Book, Ages 4-8
Maturity Level: Ages 4-8, Ages 8-10
The story is so simple your preschooler can tell it to you. Rocky and Blossom are two very troublesome sheep. While the rest of the flock grazes contently in the valley, their goal is to escape to the meadow on the mountainside, in spite of Murphy's continual warning. Murphy is the sheepdog: long-suffering and watchful. Especially over these two, for "Rocky and Blossom had been known to make some very bad decisions over the years." The illustrations that accompany this piece of information are worth the price of the book–the two heedless critters sunbathing on the railroad tracks, running with scissors, skateboarding without helmets, and (my favorite) sitting in on a game with C. M. Coolidge's Dogs Playing Poker. The kids will have fun picking out all the things that they've been told not to do (plus many things they may never have thought of yet!). Rocky and Blossom do sneak away to explore the mountain meadow and soon find themselves in BIG trouble, which though predictable should still raise suspense: how will they get out of this predicament?
"All we like sheep have gone astray; we have turned every one to his own way . . ." (Is. 53:6).  Try to explain Isaiah 53 to a four-year-old. On second thought, don't. It would be a burden too heavy for her to bear. But a light-hearted book about two silly sheep who go astray might be a baby step toward understanding. The author makes no obvious biblical references, and may not have intended any. Still, a thoughtful parent or teacher can point out that these sneaky sheep would have killed themselves long ago if it weren't for Murphy. Murphy's kind of a shepherd, isn't he? Like Jesus . . . ? And who are we like?  Another point: it's nice to see sin portrayed for what it is.  Rocky and Blossom are hardcore rebels, but there's nothing glamorous about their rebellion.  It's just stupid.
Cautions: none
Overall Value: 5 (out of 5)
Worldview/moral value: 5
Artistic value: 4
Categories:  Picture Books, Starred Review, Humor, Character Values
Support our writers and help keep Redeemed Reader ad-free.